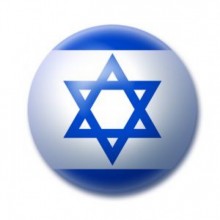 More than 35 Museums in Israel merged into a project for enhancing Israel Cultural Heritage through digital technologies on the model of some European best practice as Europeana and Linked Heritage. At the moment phase 1 (building a management system for digital heritage: MANA) is completed and phase 2 (developing the public interface: iMus)  was recently presented.
MANA is an intranet based cataloging & digitizing data warehouse unified platform for Israeli Museums, and it is actually only the 1st phase of the whole project.
It is the central system for collections cataloging and management, serving more than 35 Museums in Israel as their major internal management tool.
MANA was designed for answering different demands regarding Israeli Museums System:
 To supply a digital preservation tool
 To supply a unified platform & process
 To enable better artifacts accessibility
Thanks to MANA it is possible to manage different entities and properties: Artifacts  e.g name, images/videos, description, artist/creator, dates, location; Collections / Exhibitions e.g. name, location, duration, artifacts; Museums e.g. name, about, location, contacts, pictures.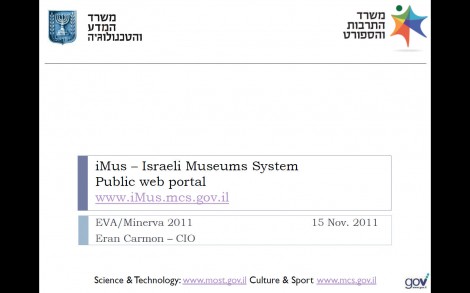 The 2nd phase of the Israeli Museums collection management project is to build a user-friendly interface for the access to the resources of MANA.
Actually, it was recently presented iMus, the public frontend (web portal) of MANA. The main target of iMus is to expose the cultural treasures of Israel to the public (Researchers / Students, Tourists, New immigrants to Israel, impaired people who are accessibility challenged) with accessibility, standardization, and simplicity of use.
Furthermore, iMus supplies a web portal for museums, exhibitions, collections & artifacts. iMus is also linked to Europeana and Judaica Europeana to share and connect Israel-related contents.
The global project, run by Ram Shimony, is intended to manage a group of experts towards forming the Israeli Museums Portal, in line with Europeana and Linked Heritage projects.
Slide presentation (PDF, 1,12 MB)