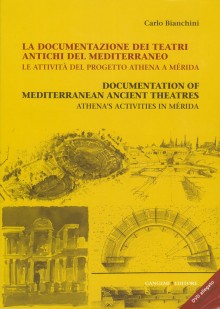 by our referent from Jordan, Marwan Asmar
Theaters scalped in new 3D digital scanning and modelling technologies is at the heart of preservation, conservation and protection of ancient structures. It is using digital technology to preserve culture and heritage.
This latest publication, written and prepared by the academic staff of the Dipartimento di Storia Disegno e Restauro dell'Architettura (DiSDRA) of La Sapienza Università di Roma, is a great addition to new technology scanning using 2D and 3D modelling with a special focus on the Merida theaters.
Whilst, it's part of the ATHENA Project to sustain ancient theaters, and as the introduction emphasises, there is a much tangible quality about what is sure to become a work of reference on the use of new technologies for documentation.
The book, which is made in a glossy format combines broad sections, documentation results and history and analysis of ancient theaters to draw out the best in exploring new technologies on theatre upkeep.
There is for instance theoretical and practical chapters, giving it a strong case in integrated representation whilst examining the importance of historical drawings, numerical models, 2D profiling. There is also focus on point cloud digital modelling, critical surveying, data communication and 3D scanning whilst contextualizing the analysis within historical and archaeological paradigms.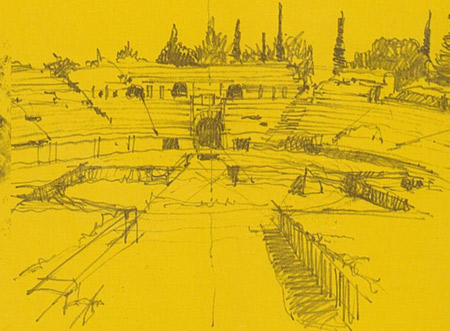 The volume, which is both in Italian and English is rich in graphics, top quality photos, theatre plans surveys and line and water colour drawings, exploring details, facades, angles and angles of the Merida theatre structures.
There is a plethora of types of plans and sections in black and white as well as colour, giving the text a fabric texture feel for the specialist as well as those who want to learn about the theater structure. They are designed to show the importance of scanning in the preservation of heritage.
There is an extensive bibliography to show the scientific balance of work that meanders between technology and heritage while highlighting works on history and archaeological studies, proportional and geometric analysis, archaeological representation, 3D laser scanning, and photo-modelling.
The book is a rich addition to the field of heritage that is looking to be invaluable to the study of preserving heritage.
La Documentazione Dei Teatri Antichi Del Meditterraneo, Le Attivita Del Progetto ATHENA A Merida (Documentation of Mediterranean Ancient Theaters, ATHENA's Activities in Merida), Carlo Bianchini et al, Rome: Gangemi Editore, PP 206.