text and images in this post courtesy of the project "From Intangible Expression to Digital Cultural Heritage".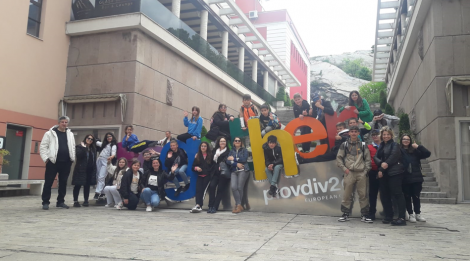 After our first virtual meeting in Italy, this time we were welcomed by the "St. St. Cyril and Methodius" Primary School from 7th to 13th May in Razlog, Bulgaria. It was again attended by 6 students and 2 teachers from each partner schools. Razlog is a town in Blagoevgrad Province in the southwestern of Bulgaria. This visit we made to Bulgaria was an experience for us where we nearly witnessed history. It is a town which is rich in traditions and customs.
On the first day of our visit we had a tour in Razlog and visited the Nicola Parapunov History Museum. It has many valuable collections of traditional local clothing and works of local craftsmen. In Bacheco village, our students had the experience of riding horse and tasted very delicious traditional foods of Bulgaria.
On the second day, we were in Bansko which is full of traditional houses. The Pririn National Park is located here and this park is included in the convention for the Preservation of World Natural and Cultural Heritage Sites. Here in Bansko, having experienced the Bulgarian folk dances and local hand crafts made our students get together and communicate in foreign language. They also shared cultural heritages by exposing to them.
On the third day we were in the secon biggest city of Bulgaria called Plovdiv. It is one of the most historical cities there. The history of the city dates back to a thousand years  Before Christ. In 2019 it became the European Capital of Culture. It is a city that contains colours.
In the end of our meeting we noticed again that we should respect and accept other people's culture, history and traditions and also save them for the next generations. All the cultures are worth to be shared and made more visible. Beside this, we had the opportunity tu use our foreign language to communicate. We ensure the intercultural dialogue among people. Our Project encourages us to do all those things. And that's why we love Erasmus+ projects!