On the 24th and 25th October 2013, in Pisa, it was held the second plenary meeting of EAGLE project, that was joined with a training workshop for the partners.
Actually, the training workshop was held on day 1, and after the welcome by Vittore Casarosa of CNR-ISTI, the hosting partner, it started with a very interesting introduction to epigraphy for non-epigraphers by the project coordinator Silvia Orlandi, Sapienza University of Rome.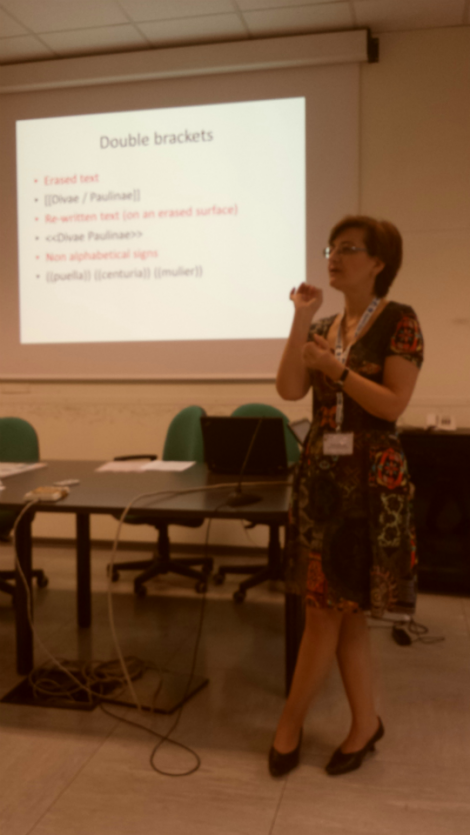 The presentation was very useful to those non-specialist partners that learned the main concepts of epigraphy;  during the presentation it was also mentioned an interesting paper by prof. Panciera: "What Is An Inscription? Problems Of Definition And Identity Of An Historical Source.".
The rest of the workshop was focused on resources, metadata and harvesting protocols, the EAGLE metadata model & schema (presentation by Eydel Rivero Ruíz, University of Alcalà), and a wide training about the mapping process to allow ingestion of the metadata to Europeana, by Andrea Mannocci, CNR-ISTI.
Also requirements for the mobile application, to be presented on day 2, were tackled.
On Friday 25th,  Philippe Martineau of EUREVA opened the session presenting the EAGLE Mobile Application, designed for enabling tourists to understand inscriptions they find on location by scanning them with a smartphone.
Then, the plenary meeting started with discussions by all the WP leaders about project progress and objectives for the next period. Particularly useful for the partners were the summary of the training workshop and planning of the ingestion phase, by Valentina Vassallo, The Cyprus Institute, the discussion on networking methodologies and next steps in the Working Groups by Pietro Liuzzo, University of Heidelberg,  Christian Uhlir and Andreas Sanders, Paris-Lodron University of Salzburg and the discussion about the requirements for the implementation of the end-user dedicated services, among which the storytelling application, by Francesco Mambrini, Deutsches Archäologisches Institut.
Raffaella Santucci, Sapienza University of Rome, the Dissemination Leader, presented the challenges and future strategie for the dissemination and outreach of the project in collaboration with all the partners.
During the session, a wide presentation of the EAGLE website and the EAGLE showcase hosted by digitalmeetsculture was also delivered by our technical director, and technical coordinator of the project, Claudio Prandoni.
Next appointment for the EAGLE project will be on the 19-20 February 2014, in Ljubljana, with the first EAGLE workshop "Current Practices and New Directions in Digital Epigraphy". Still to be confirmed as for dates and venues, the first EAGLE International Conference will also take place in early autumn 2014.