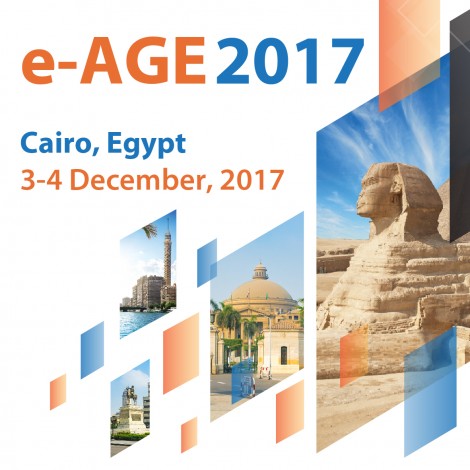 Under The Patronage of His Excellency Ahmed Aboul-Gheit Secretary General of the League of Arab States
e-AGE 2017 Call for Papers, Presentations, Posters and Participation
7th International Platform on Integrating Arab e-Infrastructure in a Global Environment
League of Arab States, Cairo, Egypt, 3-4 December, 2017
"EDUCATION, SCIENCE AND INNOVATION"
Integrating Arab e-infrastructure in a Global Environment, e-AGE, is an annual international conference organized by the Arab States Research and Education Network, ASREN. Since the launch of ASREN in December 2010 at the League of Arab States, it was decided to organize e-AGE every year in an Arab country. e-AGE is in line with ASREN's major objectives that are related to dissemination and awareness, promotion of research collaboration and joint activities, and establishment of research networks in the Arab region and worldwide.
e-AGE is meant to be the launching pad for Research and Education connectivity and cooperation. It brings together ASREN, EUMEDCONNECT, AfricaConnect, GÉANT, AfREN and INTERNET2 stakeholders and the region's foremost innovators, leaders, scientists, and businesses to discuss and debate new models of innovation, integration of research and education networks, policies for sustainable development in education, means of knowledge sharing and dissemination, capacity building programs, and region-wide e- infrastructure deployment to tackle today's crises in climate change, global economy, food, water scarcity, alternative energy, and environmental issues. The forum can lay the foundation for a dream of many of today's leaders towards a global e-infrastructure for R&E, based on real life inclusiveness beyond any political protocols.
Authors are invited to submit full papers reporting on their original and unpublished research in e-Infrastructures and computational and data-intensive sciences. All papers will be peer-reviewed and accepted papers will be published in the conference proceedings.
Topics of interest include, but not limited to:
Scientific computing and data-intensive e-Science in the scientific areas related to energy, environment, health, climate, water, agriculture, biology, economy, medicine, as well as in social sciences and humanities.
Perspectives on NRENs, including challenges, operation, sustainability, funding, governance, business models, security and services.
Problem-solving environments, Virtual Research Environments, Science Gateways and collaborative tools, applications and services
Education and e-Learning Technologies, access to educational resources, repositories, libraries and contents, clouds, grids, parallel and distributed computing, and high performance computing.
Internet technologies and trends, Internet of Things, Security, SDN and AAIs.
More Information: www.asrenorg.net
Download the Call for Papers (PDF, 379 Kb)