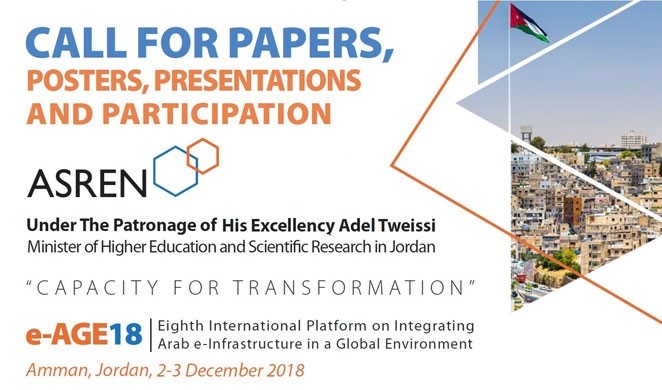 The e-AGE conference had established itself as an important venue for networking among experts and scientists. In 2018, e-AGE will be held under the patronage of HE Professor Adel Tweissi, Minister of Higher Education and Scientific Research, in Amman, Jordan during 2-3 December 2018. In e-AGE18, the focus will be on demonstrating successes in using the research and education e-Infrastructures at national, regional and global levels.
Authors are invited to submit full papers reporting on their original and unpublished research in e-Infrastructures and computational and data-intensive sciences. All papers will be peer-reviewed and accepted papers will be published in the event proceedings.
Posters are also welcomed, an effective poster presentation is not just a standard research paper stuck to a board. It should summarize your work with graphs and images to tell the story and should use text more sparingly. Featuring a poster at e-AGE will serve as an excellent advertisement for your work, and can act as a great conversation starter with e-AGE participants.
SUBMISSION DEADLINES:
Full papers: 1 October
Posters and opresentations: 15 October
Final versions of accepted works: 20 November
Topics of interest include, but not limited to:
Scientific computing and data-intensive e-Science in areas related to energy, environment, health, climate, water, agriculture, biology, economy, medicine, as well as in social sciences and humanities.
Perspectives on NRENs, including challenges, operation, sustainability, funding, governance, business models, security and services.
Problem-solving environments, Virtual Research Environments, Science Gateways and collaborative tools, applications and services.
Education and e-Learning Technologies, access to educational resources, repositories, libraries and contents, clouds, grids, parallel and distributed computing, and high performance computing.
Internet technologies and trends, Internet of Things, Security, SDN and AAIs.
For more details, please visit the conference website at:  http://asrenorg.net/eage18/?q=Page/call-participation