Ancient theaters represent one of the most significant cultural heritage remains of Mediterranean civilizations. A number of these ancient theaters are still being used for various activities. Such current uses of theaters create a continuous impact on theatre structures originally designed for needs very different from contemporary ones. Ancient theaters need to be linked to their urban and human environment and there must be the creation of a strong relationship between the theater and the local community especially those who live near these structures. This is to enliven the cultural role of these theaters that has taken place since thousands of years ago.
Thus, the need for a common strategy seems to arise, involving the design, testing and implementation of a management plan.
The ATHENA Project of Ancient THeaters Enhancement for New Actualities is a Euromed initiative designed to bolster cooperation and ideas between Europe and Arab countries across the Mediterranean, in the field of ancient theater development and their relationship with civil society institutions and communities.
The ATHENA Project is supported and funded under the Euro-Med Heritage IV program by the European Commission and supervised by its Regional Monitoring and Support Unit (RMSU).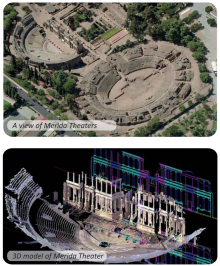 ATHENA project aims to minimize the progressive decay of ancient theaters in terms of physical, cultural and socio-economic aspects, to support the revival of theaters as a part of a wider archaeological site or urban context and to establish an overall strategy for dealing with tangible and intangible heritage aspects.
The Project partners belong to six countries in the Mediterranean region, earmarking different archaeological sites with designated authorities and academic institutions responsible for project rehabilitations. The archaeological sites are the followings: Jarash and Petra in Jordan, Cherchell in Algeria, Merida in Spain, Carthage in Tunisia and Siracusa in Italy.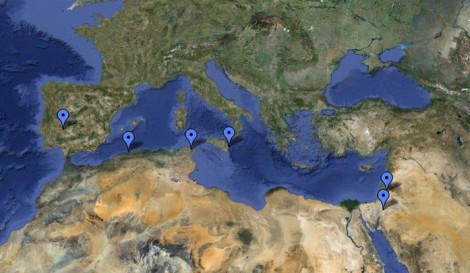 Jordan's Ministry of Tourism/Department of Antiquities acts as overall coordinator of ATHENA Project, while the other partners are the Institut aux Etudes Litteraires et de Sciences Humaines de Tunis of the University of Tunis, LaboBatiDans l'Environment—University of Science and Technology, Houari Boumediene, Algeria, Universidad Politecnica de Valencia — Instituto de Restauraciondel Patrimonio in Spain and Dipartimento di Rilievo, and Disegno dell'Ambiente e dell'Architettura (RADAAR) of the Sapienza University in Rome.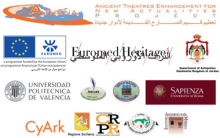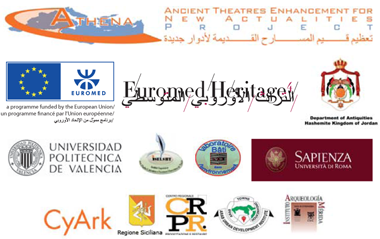 The project is well disseminated through workshops and seminars, and a very nice and up-to-date website: http://www.athenaproject.eu/
Another nice tool that was implemented for informing and sharing about the project is the monthly newsletter, headed by the Department of Antiquities of Jordan.
The newsletter highlights the latest news, actions, developments of the work relating to ancient theaters not only in Jordan (Petra and Jerash) but also in the member countries taking part in the Program (Tunisia, Algeria, Italy and Spain).
Issue 1 – January 2012 (PDF, 1,64 Mb)
3D Laser Scanner Boosts Sites Enhancement
Work in Progress: Ancient Theaters across Euro-Med Borders
Dipartment of Antiquities Designs a Training Course on Using Cutting Edge Laser Technology
Upcoming ATHENA Week in Jordan: Signifies Success of Activity for all Member Countries
RMSU EuroMed Workshop,Tangiers Focuses on Sustainability and Embedding for Stakeholders
ATHENA Work Action Paper Presented to Virtual Exhibitions Workshop organized by INDICATE
Management Plan Chart Roadmaps in ATHENA Project Countries
Issue 2 – February 2012 (PDF, 2,07 Mb)
Shaking Hands: Cooperation with Royal Jordanian Geographic Center
Ancient theater thesaurus going on-line
Theaters in Education: Educational Event in the Jarash South Theater, 5th May
Training Activity: Design of Surveying Course
Jordan Hosts Regional ATHENA Consortium in May
Building linkages