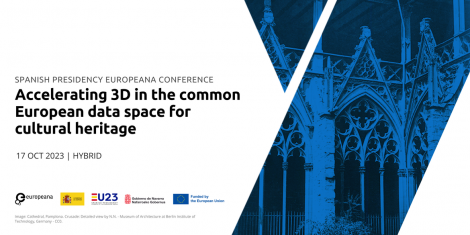 The Europeana conference organized on the occasion of the Soanish EU Presidency will take place on 17 October 2023 (9h – 15h CET), in a hybrid format in Pamplona and online. The conference is titled 'Accelerating 3D in the common European data space for cultural heritage: Building capacity for 3D' and will be hosted in Palacio de Congresos Y Auditorio De Navarra, BALUARTE in Pamplona. The event is made possible thanks to the generous support of the Spanish Ministry of Culture and Sport.
The conference will contribute directly to the 'Twin it! 3D for Europe's culture' campaign. As such, the conference will foster a multidisciplinary dialogue on 3D capacity building for the cultural heritage sector, showcase a number of best practice examples and case studies, and promote collaboration and networking among key actors and stakeholders.
The primary audience at this event will consist largely of members of the European Commission's Expert Group on a common European Data Space for Cultural Heritage, Member States' contact points for Twin it! and Spanish and European cultural heritage institutions and professionals. Others in attendance online will include the wider Europeana Network and digital cultural heritage professionals engaged in the common European data space for cultural heritage, and/or 3D in culture.
To participate online registration is mandatory. The complete programme of the conference will be published as soon as it will be confirmed.