Palau Moja is a neoclassical style aristocratic palace, built in late 1700 by the Marquis of Moja and his wife Maria Luisa Copons. Currently, it is the headquarter of the Department of Cultural Heritage of Generalitat of Catalunya (GENCAT), which was hosting the meeting.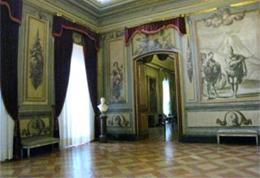 A very prestigious location to host a prestigious meeting, said Anna Busom of GENCAT. Cristina Sanchis of GENCAT told us that the palace, now belonging to the Ministry, hosted Saint Giovanni Bosco, King Alfonso XII and the King Joan Carlos, when he was crown prince.
The meeting was set in the Blue Room, very near the room containing an astonishing vintage collection of scale reproductions of boats, being the Palau Moja in the late 1800 the residence of Antonio Lopez y Lopez, stakeholder of a transatlantic company.
The atmosphere in the Blue Room was extremely friendly and warm, as the whole consortium was very happy to meet again. The meeting was intended to sum up the project progress up to now and to make plans for the next 6 months. Progress is going on according to the schedule as for content selection and digitization.
Hard work was done by KMKG for the Vocabulary and metadata issues, and by NTUA for the developing of the online tool – which will allow the ingestion of EuropeanaPhotography metadata to Europeana.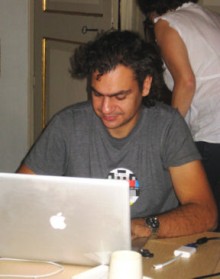 A live demo performed by Nikos Simou of NTUA showed in Barcelona that the MINT ingestion tool is almost ready to be used.
Voices from the partners express better than anything else the global mood of the meeting and the project:
Anna Gruskova from Bratislava Theater Institute: "This project is an opportunity for me to meet people, not only abroad but also in my country, to know what they do and to enrich both the value of my institution and myself!"
Hubert Francuz from MHF, the Photography Museum in Krakow: "This is the first EC project that our Museum participates in. For us, it is an occasion to go beyond national programmes and to get in touch with EC: to be known, now and also for the future."
Viktorija Jonkutė, from Lithuanian Art Museums, was recently appointed as EuropeanaPhotography referent for her institute. She comes for the first time in an international occasion, and she says: "There is really a friendly and warm atmosphere, I didn't suppose that so many important partners were so informal and confidential!"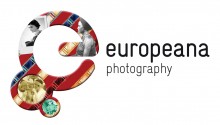 In the next period work will go on as well, and there will also be a shift of management, due to strategic reasons, that will keep boosting the project. Pilots for the testing and use of the MINT tool will be performed by some volunteer partners with the coordination of NTUA. Fall will also be a busy period for dissemination.