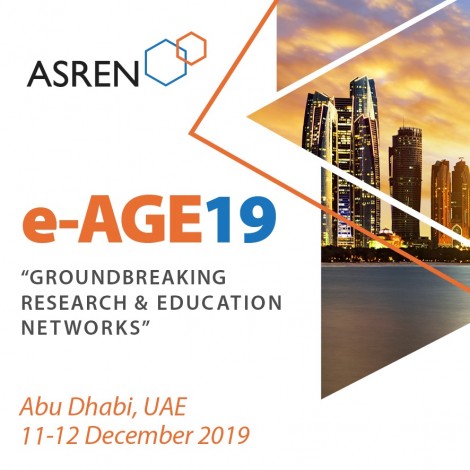 Scientists, researchers and educators are invited to submit full papers reporting on their original and unpublished research in e-Infrastructures and computational and data-intensive sciences for e-AGE, Integrating Arab e-infrastructure in a Global Environment, the annual international conference organized by the Arab States Research and Education Network.
e-AGE supports ASREN's major objectives that are related to dissemination and awareness, promotion of research collaboration and joint activities, and establishment of research networks in the Arab region and worldwide.
e-AGE 2019 takes place in Abu Dhabi on 11-12 December 2019. the theme this year is "Groundbreaking research and education networks".
Topics of interest include, but not limited to:
Scientific computing and data-intensive e-Science in areas related to energy, environment, health, climate, water, agriculture, biology, economy, medicine, as well as in social sciences and humanities.
Perspectives on NRENs, including challenges, operation, sustainability, funding, governance, business models, security and services.
Problem-solving environments, Virtual Research Environments, Science Gateways and collaborative tools, applications and services.
Education and e-Learning Technologies, access to educational resources, repositories, libraries and contents, cloud, grids, parallel and distributed computing, and high performance computing.
Internet technologies and trends, Internet of Things, Security, SDN and AAIs.
Artificial Intelligence tools, deep learning, big data, and open science platforms.
Deadline: 1 October 2019 (full papers) and 15 October (posters and presentations)
Download the Call For Papers (PDF, 574 Kb)
Website: http://asrenorg.net/eage19/