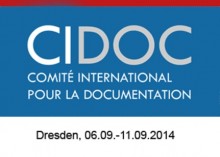 A paper presenting the DCH-RP Roadmap for the long-term preservation of digital cultural content has been submitted and presented at the CIDOC 2014 Conference in Dresden.
Digital Cultural Heritage Roadmap for Preservation (DCH-RP) is a project supported by EC FP7 e-Infrastructures Programme. It seeks to look at best practice for preservation standards in use, and has created a 'roadmap' which will give a way forward for the sector.
The Roadmap is built on two basic assumptions:
Existing e-Infrastructures for research and academia are also efficient channels for the delivery of advanced services to be used by the digital cultural heritage sector for distributed digital preservation;
That it is possible to establish common policies, processes and protocols which will allow digital DCH organisations to access e-Infrastructures.
The aim of this paper is:
To make CIDOC Conference participants aware contents of the Roadmap;
To give participants an opportunity to give feedback about the Roadmap;
To seek support for the Roadmap.
The presentation was delivered by Gordon McKenna in the session Session G/1, Digital Long Term Preservation on Tuesday 9th September 2014 and the paper will be published in the conference proceedings.
Click here to download the DCH-RP presentation.
For further information about the Conference visit this page.