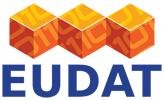 The EUDAT project has, since its inception in 2011, always explored ways to build generic technical services that support multiple research communities. EUDAT works closely with a wide range of communities to deliver these technical services as part of the EUDAT Collaborative Data Infrastructure (CDI). To be successful in this ambitious initiative, EUDAT is using novel methods to involve all the stakeholders, both in the discussions to determine the required services, and in the process of designing, developing and implementing those services.
The annual conference, 28-30 October 2013, Rome – Italy, is one of these many ways that EUDAT engages actively and directly with stakeholders. Through plenary sessions, parallel tracks, training courses and associated workshops participants are offered a 360° view of EUDAT existing and future services and how they will benefit both researchers and research organisations in accessing and preserving their research data.
To concretely illustrate how EUDAT collaborates closely with and directly involves other initiatives with a similar vision and an overarching goal of facilitating access to preservation of research data, a series of associated workshops will take place on Monday 28th & Wednesday 30th October covering from biodiversity, to Social Sciences and Humanities, to cultural heritage from research data. See the complete list at http://www.eudat.eu/eudat-2nd-conference-workshops
The parallel tracks of the conference are dedicated to showcasing  both the existing and new EUDAT services which are seen as priorities for research communities and address core functional requirements of the EUDAT Collaborative Data Infrastructure (CDI). Together with presentations, demos and training on Safe Replication, the Data Staging, the Metadata and Simple Store services, new services in the pipeline include EUDAT box – a dropbox-like service for easy sharing & local synching of data as well as generic services to handle real-time data streams and crowdsourced data, and to support semantic annotation.
Keynote presentations from the Human Brain flagship project by Richard Frackowiak, Ewan Birney on Annotating the Human Genome, Helix-Nebula the Science Cloud by Maryline Lengert and a view from across the Atlantic from Bill Michener on DataONE will be given together with the latest updates on data infrastructures in the EU's imminent Horizon 2020 programme from the European Commission's Kostas Glinos, European and the EUDAT story so far will be narrated by Kimmo Koski, EUDAT Project Coordinator. Progress on series of Research Data Alliance activities and working groups will round up the event.
Check out the rich three day programme at http://www.eudat.eu/events/programme-eudat-2nd-conference and register on-line. Don't miss the early bird registration deadline on 20th September. Follow EUDAT on Twitter @eudat_eu for conference updates.