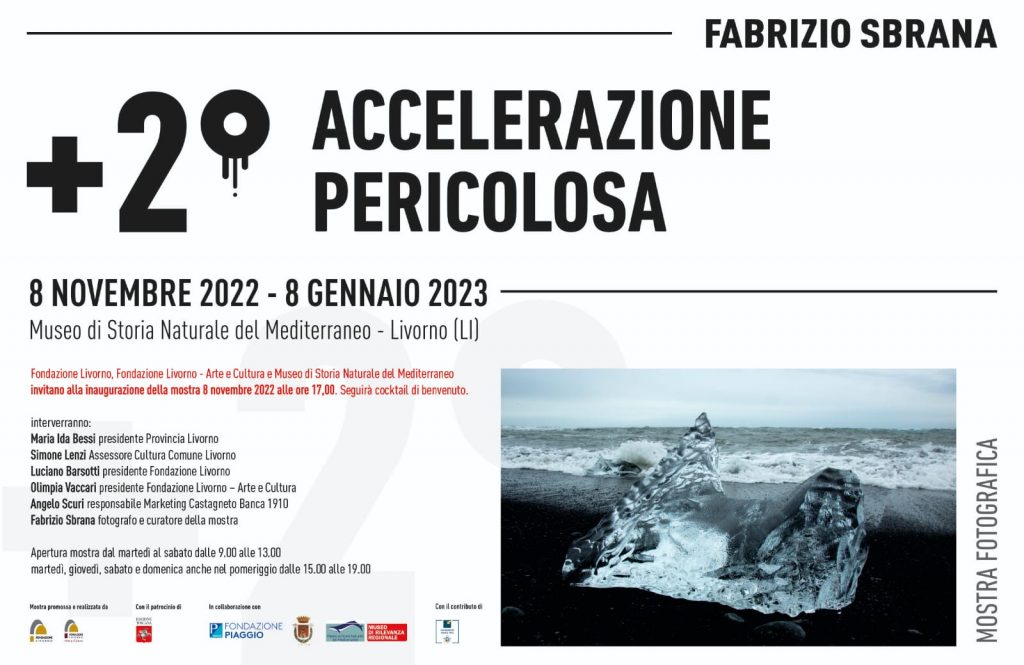 After the first display at the Museo Piaggio in Pontedera in early 2022, the exhibition by photographer Fabrizio Sbrana entitled +2° Accelerazione Pericolosa (Dangerous Acceleration) was rearranged with a new format at the Museum of Natural History of the Mediterranean in Livorno, between 8 November 2022 and 8 January 2023.
Accelerazione Pericolosa is an exhibition dedicated to the theme of climate change. The exhibition is composed by 30 large photographic panels complemented by a video that shows over 300 more pictures. It represents the reinterpretation of Sbrana's reportage photographs shot during many travels around the world, from the 1980s to the present day: from Zambia to Italy, from Brazil to Spain, from Ethiopia to Iceland passing through Tunisia and Namibia, the images testify the drama of the climate emergency, trying to raise awareness and awaken consciences, to "educate, empower, involve, mobilize and keep the light on the very urgent issue of global warming".
The dangerous acceleration of climate changes means the increasingly worrying speed with which they occur: two degrees Celsius higher in temperature – compared to that at the beginning of the industrial era – is the limit that must not be reached, as it would produce devastating effects on the Earth, the oceans, the atmosphere and ecosystems. And Sbrana shows the crumbling glaciers and the lakes which have become crusts of salt, the poors in a desperate search for water to survive, and other effects of the climate crisis witnessed by landslides, floods, coastal erosion, floods, drought.
In facts, the Nobel prize for chemistry Paul Jozef Crutzen and the biologist Eugene Filmore Stoermer proposed the term Anthropocene (article here, p. 17) to indicate our geological era dominated by the humans who imprinted territorial, structural and climatic changes. To govern such man-induced stress, global and sustainable and environmental management is needed in a worldwide dimension; however, each one of us can make an important contribution to achieving this goal, with small daily gestures and also promoting the development of a collective ecological awareness.
This exhibition is an opportunity to contribute to reflections around a theme of the climate change that is dramatically in focus nowadays, so to participate in the collective awareness-raising process that must accompany the concrete actions of governments, institutions and businesses.
Press Release (Italian language; PDF, 400 Kb)
Download the exhibition catalogue (PDF, 9 Mb)