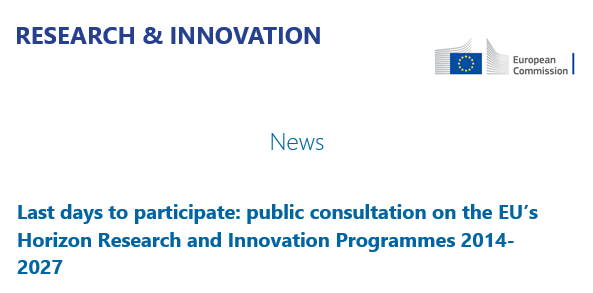 The Commission Services are currently running the largest ever public consultation held on the past, present and future of the EU's Horizon research and innovation programmes 2014-2027.
Through this consultation, you are able to share your views on:
• The ex-post evaluation of Horizon 2020
• The mid-term evaluation of Horizon Europe
• The Horizon Europe Strategic Plan 2025-2027
This is an excellent opportunity to share your views and make your voice heard – please do not hesitate to re-share the news within your network of stakeholders, inviting them to reply to the questionnaire and/or share position papers. The consultation is open until 23 February 2023.
– Respond to the consultation on EU Survey
– See the news alert for the consultation
For any questions related to the consultation, please contact RTD-PUBLIC-CONSULTATION-HORIZON@ec.europa.eu