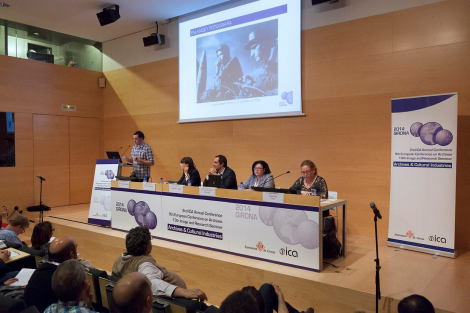 ICA congress 2014 was a major event organized by Europeana Photography partner CRDI / Ajuntament de Girona. That was a perfect occasion for project's dissemination towards an international and very valuable audience, and several partners attended it.
Two papers were submitted about the project, by Antonella Fresa and Valentina Bachi (Promoter) and by Frederik Truyen and Sofie Taes (KU Leuven).
The project was presented during a session dedicated to early photography, chaired by Fina Solà and including as speeches:
Fascismo, Guerra y Fotografía: la mirada de la nueva España, by Juan Alonso Fernández, Aleix Purcet Gregori (ES)
Creating a global online archive of Photography – the challenges, by Julia de Mowbray (EN)
Europeana Photography: photography as a privileged witness of our shared past 1839-1939, by Frederik Truyen (EN)
Adecuación de la descripción archivística de documentos fotográficos a los estándares internacionales by Darcinele Sena Rezende; André Porto Ancona López (ES)
The Conference papers are published in the Girona Municipality website http://www.girona.cat/web/ica2014/eng/comunicacions.php#top
The articles related to Europeana Photography can also be downloaded here:
Digitising, discovering and valuing European photographic heritage – A. Fresa, V. Bachi (Promoter) – PDF, 393 Kb 
"All Our Yesterdays": Europeana and the Phenomenology of Photographic Experience through the Framing of Digitization – F. Truyen, S. Taes (KU Leuven) – PDF, 572 Kb
Moreover, a dedicated workshop held by Nacha Van Steen (KMKG) was aimed to explain the skosified vocabulary created in the framework of the Europeana Photography project. the workshop was delivered in two sessions, one in English and one in French and in total there were 37 people registered.
Programme of the workshop (English): PDF, 317 Kb
Photos: Jordi S. Carrera, Ajuntament de Girona