A round table on the theme "OPEN (RE)SOURCE, valorizing e integrating the cultural heritage" has been held in Turin, organized by the heritage agency Promemoria in collaboration with Teatro Regio Torino.
The event saw the participation and speeches by many representatives of archives and libraries such as Simone Solinas (Archivio Storico Teatro Regio), Antonella Lavazza (Archivio Storico Lavazza), Eugenio Pacchioli (Associazione Archivio Storico Olivetti), Maurizio Torchio (Archivio e Centro Storico Fiat), Danilo Craveia (Progetto Centro Rete Biellese Archivi Tessili e Moda), Bruno Chiesa and Maria Luisa Russo (Archivio Paul Kahle Università degli Studi di Torino), Anna Scudellari (Progetto Archivio Storico Camera Penale Vittorio Chiusano).
The round table was the occasion to disseminate EuropeanaPhotography to the participants, all belonging to the cultural heritage sector.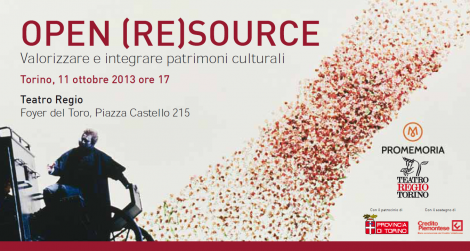 The discussion was started from the presentation of Collective Access, an open source software management system specifically dedicated to museums, libraries, archives. This software is currently in use at important international research centers, university and cultural institutions such as the School of Visual Art of New York, the National September 11 Memorial & Museum, Musée Rodin in Paris, the Computerspielemuseum and the Deutsche Kinemathek in Berlin, the Instituut voor Oorlogs-Holocaust-en Genocidestudies in Amsterdam.
During the event it was presented Kollectium, a new content ecommerce site promoting the made in Italy from the most important Italian photographic companies. Each company involved in the portal supply around 20 masterpiece images that can be order and printed remotely on high quality and in an attractive frame. An interesting form of exploitation of digital cultural heritage.