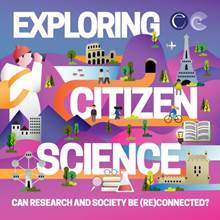 Jointly coordinated by two Horizon 2020 projects, COESO and PRO-Ethics, "Connect. Collaborate. Create." will be an interactive conference to bridge European communities for fostering ethical participatory approaches to research funding and activating participatory research and citizen science.
While the conference has a strong focus on the social sciences and humanities, researchers and citizen science practitioners from all backgrounds are welcome! Keep an eye on the COESO and PRO-Ethics websites, which will soon be updated with more details.
Get updated at this link. Download the flyer here (PDF, 3,04MB).
---
SAVE THE DATE: October 19-21, 2023
Location: MSH Paris Nord 20, Avenue George Sand, 93210 La Plaine St-Denis
COESO  has received funding from the EU Horizon 2020 Research and Innovation Programme (2014-2020) SwafS-27-2020 – Hands-on citizen science and frugal innovation, under Grant Agreement No.101006325.