>>> Press release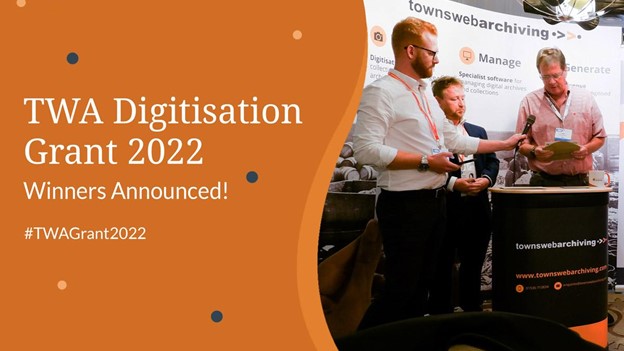 Having announced the successful applicants at the ARA Conference on 1st September, we have pleasure confirming this year's lucky winners!
After some key changes to the TWA Digitisation Grant, as a result of COVID-19, we are pleased to see even more heritage archives being protected this year, opening up opportunities for accessibility and reach.
The standards have always been high, and the quality astounding, presenting our judges with some very tough decisions indeed!
If you missed the Winners Announcement at the ARA then you can watch a recording and find out more about the successful organisations, and their exciting new projects, in our blog: https://blog.townswebarchiving.com/2022/09/twa-digitisation-grant-winners-announcement
As a brief overview, we were thrilled to put our hands together for the following organisations:
Brass Bands England – Digitisation of sheet music papers
This project seeks to preserve brass band heritage, making this important archive accessible online as a great source of inspiration for present and future bands.
Cinenova – Digitisation of film stills, slides, negatives, transparencies, and various paper records
This project aims to make valuable content relating to feminist film and video accessible online, protecting delicate material against deterioration and loss.
The Vintage Sports-Car Club – Digitisation of handbooks, leaflets, engineering books, drawings, photos, and more!
The digitisation of this archive will result in online accessibility, inspiring current and future engineers, and has a clear agenda for social impact.
Wiener Holocaust Library – Photographs relating to the Jewish Committee for Relief Abroad and Jewish Relief Unit
Digitisation will protect and safeguard albums and loose photographs, with inscriptions, to be accessed online and through events and workshops.
Please join us in congratulating this year's winners and in thanking our judges for the time they invest year-on-year to support the grant and the heritage industry.
Website: townswebarchiving.com