The only exhibition that gathers together Restoration, Archaeology, and Museum Technologies under one roof, ''HERITAGE ISTANBUL'' will take place on 27-29 April 2017 at Hilton Istanbul Convention & Exhibition Center. ''HERITAGE ISTANBUL'' organized by TG Expo to open new paths and create new areas, will gather together institutions and establishments who works to secure cultural and historical heritages of our country with industry suppliers.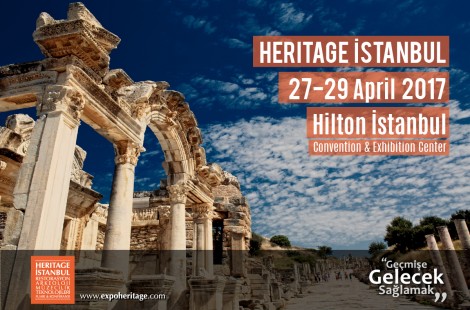 ''HERITAGE ISTANBUL'' hosted more than six thousand guests last time, and this year it is going to turn into an international platform. There will be presentations towards the future of the industry and worldwide famous guests will be hosted. For 3 days, variety of workshops will be given by the national and international experts targeting the industry professionals; a B2B scheduling system will connect governmental organizations with the companies for improving the industry. B2B-business platform will provide a private meeting opportunity for local and foreign exhibitors.
Supported by Republic of Turkey Ministry of Culture and Tourism and T.R. Prime Ministry Directorate General of Foundations, ''HERITAGE ISTANBUL'' have been the place where the industry leader's meeting point for two years. This exhibition is moving towards to be one of the only organizations about cultural heritage, having Archeologist Professor Dr. Mehmet Özdoğan, ICOM President Suay Aksoy, Gürsoy Board of Directors Member Nilgün Oldun, President of Museum Department of Istanbul University Professor Dr. Fethiye Erbay and Archeology and Art Publisher Nezih Başgelen on the advisory board.
Conference programme (PDF, 194 Kb)
Website: www.expoheritage.com