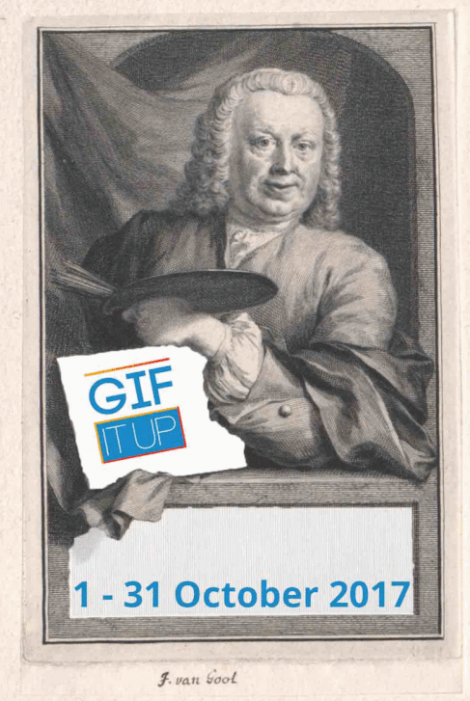 The competition encourages people to create new, fun and unique artworks from digitized cultural heritage material. A GIF is an image, video or text that has been digitally manipulated to become animated. Throughout the month, they can create and submit their own, using copyright-free digital video, images or text from Europeana Collections, Digital Public Library of America (DPLA), Trove, or DigitalNZ.
All entries help promote public domain and openly licensed collections to a wider audience, and increase the reuse of material from these four international digital libraries, including Europeana Collections. The contest is supported by GIPHY, the world's largest library of animated GIFs.
The 2017 competition will have a special focus on first-time GIF-makers and introduce them to openly licensed content. A GIF-making workshop, providing tools and tutorials to help visitors create their first artworks, will be held on 14-15 October in cooperation with THE ARTS+, the creative business festival at the Frankfurt Book Fair.
The jury, made up of representatives from GIPHY, DailyArt and Public Domain Review, will be awarding one grand prize winner with an Electric Object – a digital photo frame especially for GIFs – sponsored by GIPHY. Prizes of online gift cards will go to three runners-up as well as winners in a first-time GIF-makers category. Special prizes will be allocated in thematic categories: transport, holidays, animals and Christmas cards.
People are also invited to take part in the People's Choice Award and vote on the competition website for their favourite GIF, which will receive a Giphoscope. All eligible entries will be showcased on the GIPHY channel dedicated to the competition, and promoted on social media with the hashtag #GIFITUP2017.
GIF IT UP started in 2014 as an initiative by the Digital Public Library of America (DPLA) and DigitalNZ, and has since become a cultural highlight. 368 entries from 33 countries are featured on the GIF IT UP Tumblr. In 2016, the grand prize was awarded to 'The State Caterpillar', created by Kristen Carter and Jeff Gill from Los Angeles, California, using source material from the National Library of France via Europeana. Nono Burling, who got awarded the 2016 People's Choice Award for 'Butterflies', said: "I adore animated GIFs made from historic materials and have for many years. The first contest in 2014 inspired me to make them myself, and every year I try to improve my skills."
Results of the 2017 competition will be announced in November on the GIF IT UP website and related social media.