The call for artists of the 13th Arte Laguna Prize has officially opened. Arte Laguna Prize is an international art contest that has been promoting contemporary art for thirteen years, collecting thousands of applications from artists from all over the world, selected by a jury of excellence for the great exhibition in March in the evocative spaces of the Arsenale of Venice. In addition, the participants have the chance to win several awards in collaboration with companies, foundations, galleries, including cash prizes.
10 Contest categories: painting, sculpture and installation, photographic art, video art and short films, performance, virtual art, digital graphics, land art and this year's new entry, urban art, design. The theme is free and there are no age or nationality restrictions.
The international jury will select 120 artists for:
– the final exhibition in Venice in March 2019
– 6 cash prizes of € 7,000 each
– publication in the official catalogue
The Prize international Partners will select the winners among all the participants for:
4 personal exhibitions in international Art Galleries
9 Art Residencies
4 collaborations with companies
2 collaborations with art platforms and foundations
participation in 4 International Festivals end exhibitions
ENTRIES OPEN UNTIL 27.11.2018 >>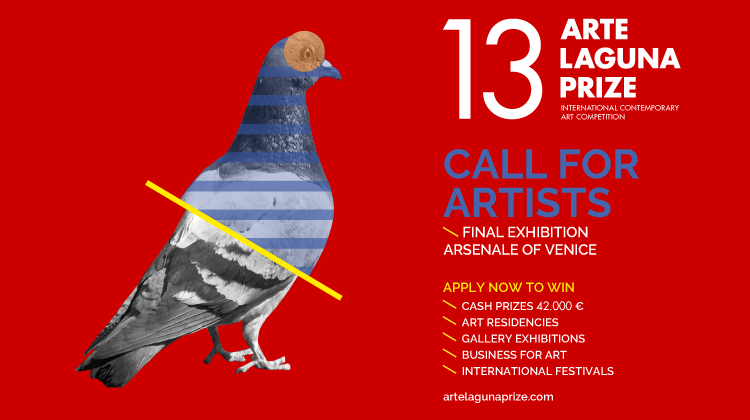 FINAL EXHIBITION: ARSENALE OF VENICE
The collective exhibition will take place in the historical location of the Arsenale in Venice in March 2019. The exhibition's opening ceremony will be on March 16th, 2019.
CURATOR AND HEAD OF JURY: Igor Zanti (Italy, Curator and Art Critic)

JURY

Maxa Zoller (Germany, Artistic Director of the International Film Festival Dortmund | Cologne)
Eva González-Sancho (Spain, Co-curator of the first Oslo Biennale)
Vasili Tsereteli (Russia, Executive Director of  MMOMA Moscow Museum of Modern Art)
Flavio Arensi (Italy, Director of the Museums of Legnano, Milano)
Alessandra Tiddia (Italy, Chief curator at l Mart Museum of Modern and Contemporary Art of Trento and Rovereto)
Richard Noyce (United Kingdom, Writer, Scholar and Art Critic)
Simone Pallotta (Italy, Curator of Public and Urban Art)
Enrico Stefanelli (Italy, Artistic Director of Photolux Festival, Lucca)
Filippo Andreatta (Italy, Theatre Maker and Co-curator Centrale Fies)
Alfonso Femia (Italy, Architect)
Danilo Premoli (Italy, Architect and Designer)
Mattias Givell (Svezia, Co-Director of Wanås Konst, Vännäs)
CONTEST TERMS >>>
APPLY NOW >>>
tel. +39 041 5937242
info@artelagunaprize.com
www.artelagunaprize.com