CALL FOR ARTISTS: THE BODY LANGUAGE 
ITSLIQUID International Art Exhibition 2019
Venice, February 21 – March 22, 2019 at the art gallery THE ROOM Contemporary Art Space.
Deadline: January 31st, 2019
The exhibition will be presented during the period of Venice Carnival 2019 and we invite artists to be inspired by the magical power of Venetian costumes, exploring the connection between desires, needs, fears through rituals that brings human kind to change, to transform and to evolve their inner world. THE BODY LANGUAGE analyzes the hidden parts of our identities, through an immersive experience inside the fascinating universe of the complex labyrinths of our consciousness.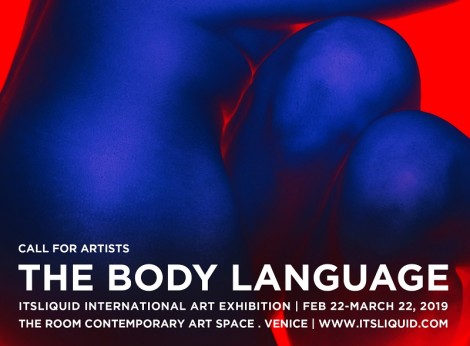 ITSLIQUID Group, in collaboration with VENICE EVENTS, is selecting all interesting photos, paintings, video art works, installations/sculptures and performance art works to include in the event.
To take part in the selection, send your works' submissions with a CV/biography, some still images (for video-art), links of videos/films/performances and pictures of artworks by e-mail to lucacurci@lucacurci.com
Deadline for applications is January 31st, 2019 (11.59 PM of your local time)
More information: https://www.itsliquid.com/call-for-artists-the-body-language-itsliquid-international-art-exhibition-2019.html