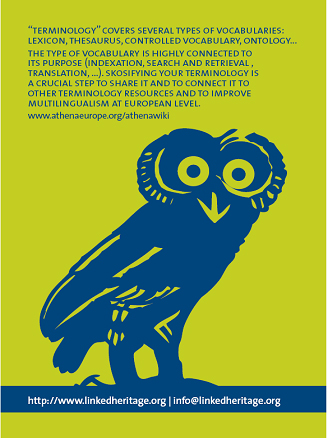 Each cultural institution provides some thousands of object descriptions in its own languages using its own terminologies. These terminologies need to be expressed according to the principles of the Semantic Web in order to enable the user to better understand the content.
There is a rather large gap between the current way to deal with terminologies in cultural institutions, and the skills and means necessary to exploit the potentiality of an effective terminology management.
The implementation of a technical platform for terminology management shall help cultural institutions to input, organise and map their in-house terminologies with other thesauri and consequently it will help them to enrich their metadata records so that they offer the maximum value.
One of the major result of Linked Heritage is the Terminology Management Platform.  The demontstrator, which has been developed according to all the requirements and expected functionnalities gathered during the project, offers a set of tools for manipulating any kind of terminology. Even if the TMP is thesaurus-oriented , simple lists of terms or ontologies can be imported within the TMP anf then be mapped to the SKOS model. As the TMP is addressing professionnals from the GLAM sector, many efforts have been given in order to provide an intuitive interface.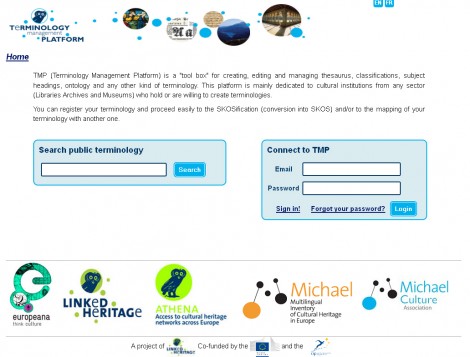 The Terminology Management Platform is available at http://www.culture-terminology.org
Furthermore, all the recommendations and guidelines on terminology management and SKOS have been collected in a booklet "Your terminology as a part of the semantic Web, recommendations for design and management" that can be distributed in printed handbook or downloaded online.