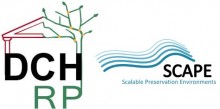 The SCAPE project – Scalable Preservation Environments – just released the December 2013 edition of their newsletter.
DCH-RP features in this newsletter with an article presenting the project, its main objectives and the first outcomes.
The other topics included in the newsletter are:
The results of the last SCAPE Training Events
The description of some of the tools under development: Scout and ToMaR
An interview with Zeynep PEHLIVAN from University Pierre and Marie Curie (UPMC)
The programme of the next SCAPE Demonstrations
The outcomes of the SCAPE Developers Workshop
The upcoming events
Click here to view the newsletter online.