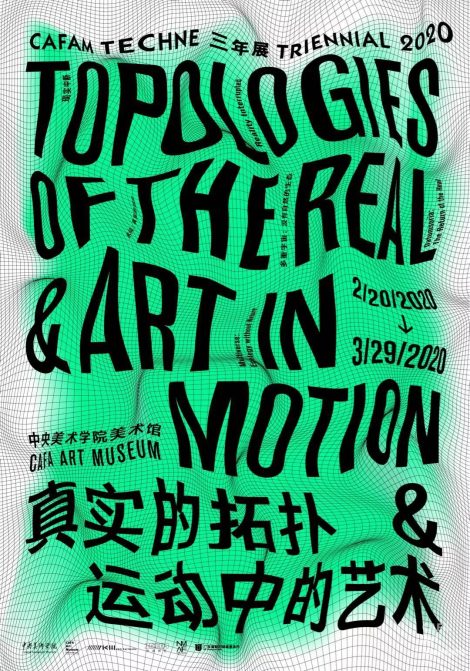 CAFA Art Museum (CAFAM) is delighted to announce the opening of the inaugural edition of the CAFAM Techne Triennial, which takes place in Beijing from Feb 20 through March 29, 2020, and is curated by ZHANG Ga, CAFAM Consulting Curator and CAFA Distinguished Professor.
The triennial will feature more than 130 artists and collectives throughout the museum's enormous space,  the first part of the exhibition Topologies of the Real will bring together modernist icons such as John Cage and Marcel Duchamp as well as contemporaries like Hito Steyerl and Alex Da Corte. 
The second part of exhibition Art in Motion: Masterpieces with and through Media, CAFAM will team up with ZKM | Center for Art and Media Karlsruhe, Germany, together these exhibitions will present a comprehensive survey of global media art from the nineteenth century to present.  
Participating artists include:
Topologies of the Real
Cory Arcangel, Micol Assaël, Tauba Auerbach, Ralf Baecker, Judith Barry, Joseph Beuys, Robert Breer, Chris Burden, Jim Campbell, Peter Campus, Oron Catts & Ionat Zurr, Alex Da Corte & Jayson Musson, Bruce Conner, Douglas Davis, DENG Yuejun, Marcel Duchamp & John Cage, Anna Dumitriu & Alex May, Valie Export, FENG Mengbo/冯梦波, Thomas Feuerstein, John Gerrard, Dan Graham, Laurent Grasso, Hans Haacke, HeHe (Heiko Hansen & Helen Evans), Jenny Holzer, HU Jieming/胡介鸣, Joan Jonas, JODI: Joan Heemskerk & Dirk Paesmans, Mike Kelley, Jon Kessler, Shigeko Kubota, Lynn Hershman Leeson, George Legrady, Olia Lialina, LIN Ke/林科, LIU Xiaodong/刘小东, Eva & Franco Mattes, Lawrence Malstaf, Haroon Mirza, Tatsuo Miyajima, Carsten Nicolai, Yoko Ono, Nam June Paik, W. Bradford Paley, Philippe Parreno, Paul Pfeiffer, Fito Segrera, SHEN Xin/沈 莘, Michael Snow, Wolfgang Staehle, Hito Steyerl, Stan Vanderbeek, Steina & Woody Vasulka, Addie Wagenknecht, WANG Gongxin王功新, WANG Yuyang/王郁洋, Peter Weibel, WGBH, Robert Wilson, Vivian XU, XU Wenkai/徐⽂恺, YAN Lei/颜磊, ZHANG Peili/张培⼒, ZHOU Xiaohu/周啸虎, Marina Zurkow
Art in Motion: Masterpieces with and through media 
Bertolt Brecht, Vladimir Bonačić, Lucien Bull, Luis Buñuel, Mary Ellen Bute, Thaddeus Cahill, Waldemar Cordeiro, Larry Cuba, Salvador Dali, Georges Demenÿ, Marcel Duchamp, Charles Eames, Ray Eames, Harold Eugene Edgerton, Masaki Fujihata, Kiyoshi Furukawa, Ivan Ladislav Galeta, Arthur Ganson, Frank Gillette, Jean-Luc Godard, Mona Hatoum, Susan Hiller, Dieter Jung, Eduardo Kac, Yoichiro Kawaguchi , Michael Klier, Billy Klüver, Kenneth C. Knowlton, Jacques-Henri Lartigue, Lynn Hershman Leeson, David Link, Manu Luksch, Len Lye, Ernst Mach, Étienne-Jules Marey, Julie Martin, Wolfgang Münch, László Moholy-Nagy, Nam June Paik, Sergio Prego, Man Ray, Martin Reinhart, Józef Robakowski, Ulrike Rosenbach, Zbigniew Rybczyński, Ira Schneider, Nicolas Schöffer, Carlota Fay Schoolman, Buky Schwartz , Lillian Schwartz, Richard Serra, Paul Sermon, Claude Shannon, Jeffrey Shaw, Léon Theremin, Thomas Tode, Stan VanDerBeek, Peter Weibel, Virgil Widrich, Katsuhiro Yamagucchi.
Website and exhibition page: https://www.cafamuseum.org/en/exhibit/newsdetail/2535