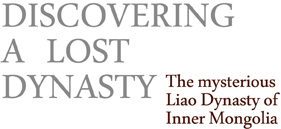 For the first time in Singapore, China's archaeological findings unveil the mysterious tomb of the Liao Dynasty in the Tu Er Ji Mountains. This significant discovery represents the Khitans' influence and prominence in Inner Mongolia.

Embark on an exciting journey through a 3D digital exhibition of cultural relis back to the past and discover the wonderful culture and history of one of the most important lost dynasties in Chinese History: the Liao Dynasty.
3D digital Relics Exhibition
12-21 October 2012, Jurong Regional Library, Singapore
The exhibition closed on October 21 and hosted a special talk about the Herotage of the Khitans.
The talk was performed by Mr. Tala, Director of Inner Mongolia Museum, Vice-Chairman of China and Inner Mongolia Archaeology association, Professor cum Lecturer at various universities and expert in the studies of the Khitan tribe.
More information here.
Download the Exhibition Poster (JPG, 1 Mb)