This is a multimedia performance generated from the meeting between the Lebanese company Minwal Theater and KyberTeatro, which will be presented in Cagliari on Friday 15 and Saturday 16 June, starting at 9 pm, at Spazio Osc di via Newton 12. The performance allows for the admission of 20 spectators at a time and over the two evenings will be repeated every half hour.
UBIQUE – هنا, في كل مكان, Latin adverb and the corresponding meaning in the Arabic language: everywhere, everywhere. The ubiquity, the concept underlying the theatrical event, offers a reflection on the real and virtual freedom of the human being. The performance is a collaboration between KyberTeatro, directed by Ilaria Nina Zedda and Marco Quondamatteo, with the collaboration of Claudia Pupillo, and the Lebanese (Sidon) of Minwal Theater, a company run by Jad Hakawati and Roaa Bzeih. It is the final outcome of a residency programme named A.R.T.E. which has the aim of fostering collaboration and mobility between artists from different countries.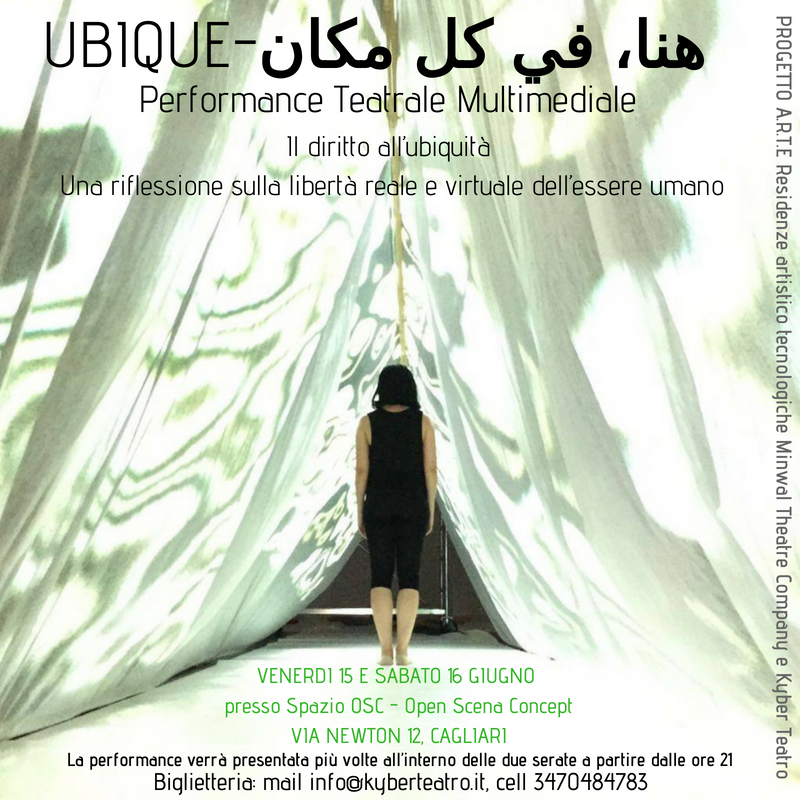 The A.R.T.E. residency project is implemented in Sardinia through the mobility of artists and their works from European and non-European countries (France and Lebanon, in fact). It foresees the digital creative exchange with Sardinian artists, in particular under 35,  for continuous collaborations and  new shows productions to be staged during the residency in Sardinia and also in the artists' countries including in the main international digital creative festivals.
More info: Kyberteatro
www.kyberteatro.it – info@kyberteatro.it
Tel: + 39 070 8607175  Mob:  +39 347 0484783
Facebook: https://www.facebook.com/events/2058683134384737/