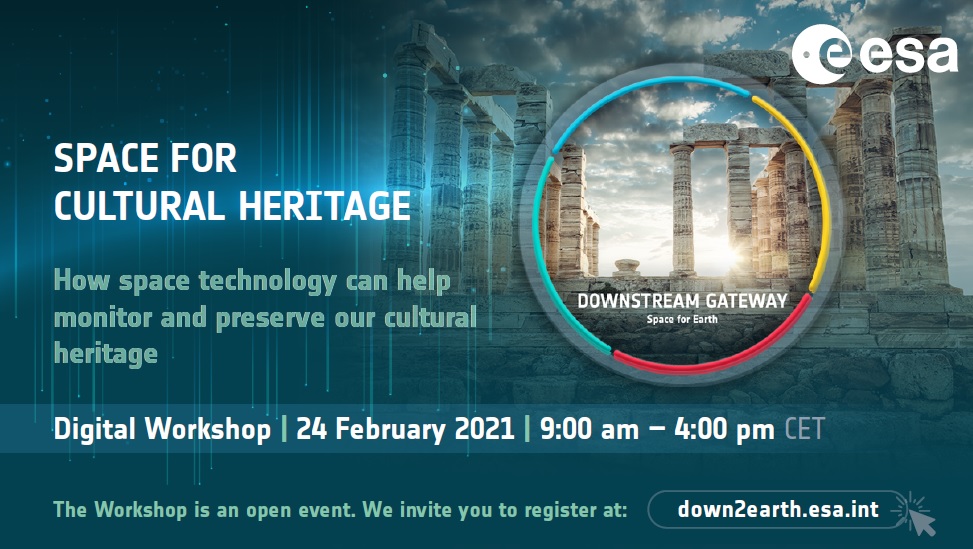 Several factors, both natural and anthropic ones, endanger nowadays our cultural heritage: subsidence, ground motion, pollution, looting, collateral damages and intentional attacks. Data provided by the European Space Agency Copernicus fleet of satellites and other cutting edge technologies leveraging on artificial intelligence and machine learning can help better assessing the risk and preserving sites at risk.
These themes were discussed during the workshop "Space for Cultural Heritage" organised by the Downstream Gateway on February 24th 2021, from 09:00 to 16:00.
Recordings of the workshop available here: https://down2earth.esa.int/2021/03/space-for-cultural-heritage-workshop/
The workshop foresaw the participation of actors both from the Cultural Heritage and the Space Sector in order to present opportunities and challenges in the use of space technologies and derived data for the protection, valorisation, and fruition of cultural assets.
Objectives
The main objectives of this workshop were to present the policy and regulatory framework in the sector; debate the actual challenges, both natural and anthropic; present new technologies that help in the discovery, monitoring and preservation of cultural heritage; and present ESA's activities in support for the cultural heritage sector.
Expected Outcomes
a. Identify user needs.
b. Evaluate how space technology combined with artificial intelligence and machine  learning algorithms can support the sector.
c. Raise awareness of those new opportunities and create a link between cultural heritage community and space technology experts.
Download here the brochure of the event.
For more information on the topic, you can read ESA article on "Earth Observation applications and machine learning for cultural heritage preservation".
---
The ESA Downstream Gateway   
The ESA Downstream Gateway provides a single interface to non-space communities to interact more easily with ESA, its business opportunities as well as broad expertise in space based technologies, data, applications, and services.