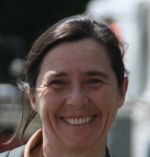 Antonella Fresa, Project Manager
ICT expert, Director of Design and General Manager at Promoter srl, she's been working on European cooperation projects since 1994.
Since 2010, she is Project Manager of digitalmeetsculture.net, online communication Platform powered by Promoter srl.
She's currently Technical Coordinator of EC projects E-SPACE (CIP ICT PSP BPN) and Communication-Dissemination Manager of PREFORMA (FP7 ICT Pre-Commercial Procurement) and HOLA Cloud (H2020-ICT).
She manages the provision of communication services to Sii-Mobility Project recently selected by the Italian Ministry of Research in the frame of the Smart Cities Programme.
She is Associate Partner Representative in the DIXIT Consortium (Marie-Curie Programme) about digital scholarly editions.
From 2013 to 2016 she has been Communication-Dissemination Manager of RICHES, a Research project on recalibrating relationships, bringing cultural heritage and people together in a changing Europe, and finding new ways of engaging with heritage in a digital world (FP7).
From 2013 to 2016 she has been Technical Coordinator of EAGLE, a Best Practice Network on digitization and ingestion to Europeana of ancient Greek and Roma Epigraphs (CIP ICT-PSP).
From 2014 until 2015 she has been Technical Coordinator of CIVIC EPISTEMOLOGIES project about the envolvement of citizens in the research processes (FP7-INFRA).
From 2012 until 2015 she has been Technical Coordinator of EUROPEANA PHOTOGRAPHY project about digitization and ingestion to Europeana of vintage masterpieces of photography (CIP ICT PSP).
From 2012 until 2015 she has been Techical Coordinator of  DCH-RP (FP7 CSA) a coordination action which added more concrete results in the specific area of the digital preservation of cultural heritage.
From 2010 until 2012 she has been Technical Coordinator of LINKED HERITAGE project about content aggregation to Europeana of 3 million content, involving 39 partners from all over Europe.
From 2002 until 2012 she has been advisor of the Italian Ministry of Cultural Heritage and Activities and Technical Coordinator of DC-NET ERA-NET, INDICATE, MINERVA series (Ministerial network for valorising digitisation activities in Europe) and MICHAEL series (Multilingual inventory of cultural heritage in Europe).
She was Project Officer at the European Commission between 1999 and 2002. Regularly serving as independent expert for the European Commission.
Enterprise Fellow at Coventry University; since 2012, collaboration with Coventry University for the participation in European projects in the domain of social science and humanities, creativity, cultural heritage and technological innovation.
Co-Editor of the book "Cultural Heritage in a Changing World", developed within the RICHES project (Springer Open, 2016).
Advisor of Giunti Scuola on technology enhanced learning research and innovation initiatives (2016).
Advisor of Teatro di Roma on Creative Europe initiatives (2016).
Antonella is vice-President of PHOTOCONSORTIUM – International Consortium for Photographic Heritage, a non profit association whose purpose is the promotion and enhancement of the culture of photography and the photographic heritage.
She is founding member of IDEA – International Digital Epigraphy Association.
She has been Member of the program committee of first EAGLE Conference (2014) and she is member of the EAGLE 2016 – 2nd International Conference on Digital and Traditional Epigraphy in Context.
Member of the Europeana Task Force on Public-Private Partnerships (2013-2015).
She has been member of the Programme Committee for the EGI Community Forum 2012, 2013 and 2014.
She has been Member of the Data, Content and Middleware ASPIRE panel of TERENA.
From its establishment until 2012 she has been appointed by Decree member of the Concertation Table for the research priorities for the cultural heritage in Italy between the Ministry of Culture (MiBAC) and the Ministry of Research (MIUR).
Reviewer in 2014 for the Austrian Agency for International Cooperation in Education and Research (OeAD-GmbH).
Reviewer in 2013 for the FCT Call for a National Roadmap of Research Infrastructures of Strategic Relevance (FCT, Portugal).
She is author of two international patents deposited by Olivetti in 1985 and 1987 on intelligent video controller systems.
She is author of articles and publications around the themes of the Cultural Heritage, for a full list of publication, see here.