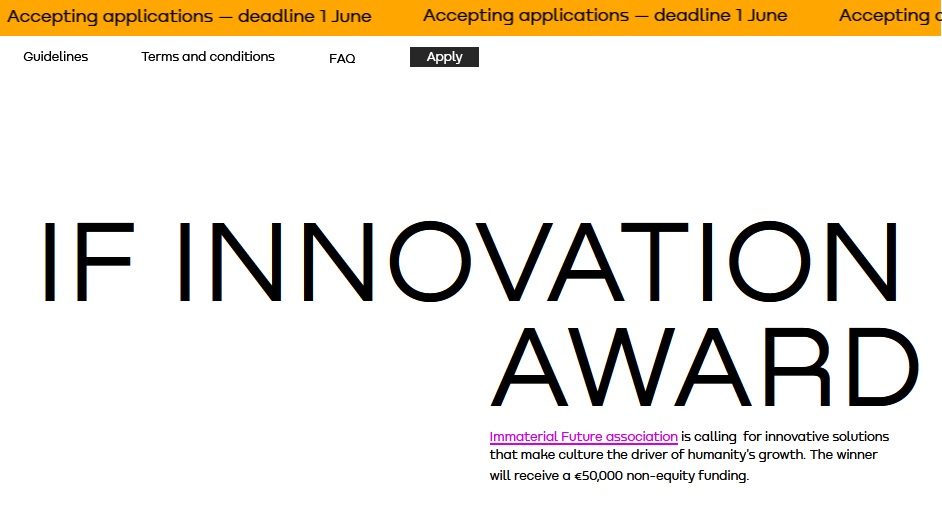 April 19–June 1, 2021
Immaterial Future association is calling for innovative solutions that contribute to unleash the full power of culture. The winner will receive €50,000 non-equity funding to be awarded during the ceremony at viennacontemporary art fair in September, 2021 in Vienna, Austria.
The open call welcomes projects that leverage technology to develop:
new business models that enable self-sustainable cultural production and distribution;
distribution models that allow wide access to cultural experiences without losing authenticity.
Applying projects can be run by a startup company, academic entity, for-profit or non-profit organization. For more information on eligibility criteria and application guidelines, visit
https://immaterialfuture.org/award/
The application deadline is Tuesday, June 1, 2021, at 11:59pm CET.
Six selected finalists will be invited to the Forum in Vienna to showcase their projects to potential partners and investors with a specific interest in culture and technology. The best submission will be selected after the showcase.
The Award ceremony will take place in Vienna, September 7, 2021, during the Immaterial Future Forum. The Forum itself is a parallel event to viennacontemporary art fair.
Dmitry Aksenov, Chairman of the Board of Immaterial Future: "We believe that culture has an intrinsic capability to support itself and to boost other spheres of human activity such as business, politics, science and technology".
Pierre-François Marteau, Board Secretary of Immaterial Future: "Culture has the potential to reach far more people than it does today, and to change their lives for the better. Technology can play a major role in unlocking this potential".
Contact email for any enquiries: opencall@immaterialfuture.org

About Immaterial Future association
Immaterial Future (IF), a Vienna-based non-profit association, is established in 2021 to shift our world's growth model towards intangible production and consumption, with culture as main vector of change. It aims to leverage culture's huge untapped potential to positively impact every single human, breaking away from its elitist confines and becoming more accessible to all.
For more details please visit https://immaterialfuture.org