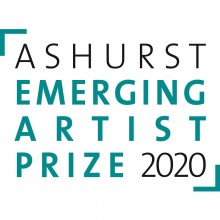 International law firm Ashurst and Oaktree & Tiger announce the launch of the sixth annual Ashurst Emerging Artist Prize, a major global prize for emerging artists.
The sixth year of the internationally successful Ashurst Emerging Artist Prize is open for entries! The prize is open to artists working across all genres, styles and backgrounds. The overall deadline is the 19 January 2020.
Open to artists anywhere in the world, entries are accepted in a wide range of media. The shortlist is to be announced in April 2020 and final winners announced in July 2020.
PRIZES INCLUDE:
– Value of Prizes increased to £10,000 prizes, for the Overall Winner, the Choice Award, the Sculpture Award, the New Media Award with partners Rich Mix and Photography Award with partners Genesis Imaging.
–  £1500 worth of services and a 12 month mentorship with Genesis Imaging
–  Includes £1,000 of vouchers from Cass Art for 3 Winners
–  Three month exhibitions in London, England
–  Group Show for 25 Shortlisted Artists in April – August 2020
Early entries will feature in our ongoing campaigns to clients, invitations to our informative talks. For further information and the application form see here http://www.artprize.co.uk/or please email mailto: info@artprize.co.uk with questions.
This year Melanie Lenz, curator at the V&A Museum, joins the panel as a judge. Melanie is the curator of Digital Art at the V&A. Based in London, she previously worked at the Barbican Art Gallery and Tate Modern and has over 15 years of experience of curating, commissioning and delivering creative projects. Josh McNorton, cultural director for Wembley Park, returns to judge for the second year of the new media award, as do independent art advisor Averil Curci and creative director of Genesis Imaging Mark Foxwell who will again judge the Photography Award. They join returning judges Dr David Anfam, senior consulting curator at the Clyfford Still Museum in Denver and author of the catalogue raisonné 'Mark Rothko: The Works on Canvas', Howard Lewis, director of the Schorr Collection, and Ashurst partner Anna Delgado. They are also joined by new guest judge Magnus Brooke, director of policy and regulatory affairs at ITV plc.
Full information about how to enter, including entry forms and rules, can be found online at www.artprize.co.uk.