CHASEN SINO-SIN HIGH TECH SERVICES PTE LTD is a successful and innovative company based in Beijing. It is partner of Chasen group, a multitasking big company with headquarter in Singapore, and it operates in the field of 3D high resolution digital imaging of cultural heritage relics and museums.
Sino-sin is committed to provide complete 3D digitization services of the highest standards and superb accuracy, according to the needs and deadlines of the purchasers, and it is today recognized as a key player in the digital preservation of cultural heritage objects in China.
It is also the only R&D centre appointed by the Museum Association of China for "Digitization Technologies, Techniques and Standards for Cultural Relics". Its success comes from an advanced business model, which is supported by advanced equipment as well as trained professionals and experts.
The core business of the society can be identified by 4 related areas: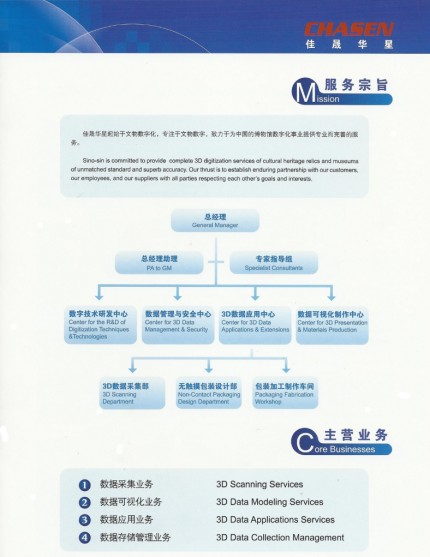 3D scanning services:
To achieve the most complete 3D data from the scanning process, Sino-sin can acquire the data both through very advanced scanners and high resolution photography.
3D data modeling services:
The scanned data will be processed to build very accurate aesthetic surface models of the scanned relics, to meet any purpose of viewing, storage or research.
3D data application services:
The 3D format of a relic is the innovative solution to give the relic new presentation possibilities and storage facility. It is actually a new tool for exhibitions, technical literature, and journals.
Also it allows to build a tailor-made packaging for each piece, with perfectly fitting moulds, which will accordingly protect the most fragile relics.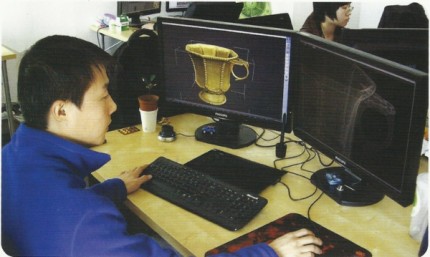 Then, converting the physical relic in digital format,  it will be easier and safer to study and virtually manipulate the piece for close-up research, measurements, reconstruction and restoration.
3D data storage management:
The 3D format is the new frontier for preserving relics and other materials because it provides easier access points and reduces the need for physical storage space.
Up to now, Sino-sin has successfully digitized more than 200 pieces of relics for the Inner Mongolia Museum, designed and produced multi media creations for Tianjin Museum, and performed digitization for Xi'an Museum.
See an example of our reconstruction (PDF, 385 Kb)