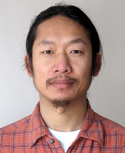 Situ Xiao Chun, Art Consultant
Since he was very young, Situ Xiaochun has always been interested to arts from different points of view.
From 1988, until now, he's working as song writer and guitarist in Chinese music bands; joining his passion for music and art to a very intense interest for new digital technologies, he has been creating electronic experimental music, engaging in the research of digital multimedia art, in audio, video, 3D animation, and other multimedia technologies.
After the degree in 1997 from the Central Academy of Fine Arts in Beijing, in the department of sculpture, he participated and was prized in many contests and exhibitions.
In 1999 he participated as a sculptor in the "Rent collection countyard" project, at Biennale di Venezia.  In the same year he participated in China Youth Sculptor Exhibition located in Beijing. In 2011, he participated in 798 Art Festival, outdoor sculpture exhibition.
The digital technologies he's always been interested in became a necessary and very helpful tool for his sculpture works. He currently uses different digital soft wares to design his sculptures, and to test the artistic idea before it is made material. Also in the field of visual arts, he uses digital technologies to experiment about photography, to reach a new and impressive artistic effect to the pictures.
He is also Editor Designer in the Chinese governmental newspaper Beijing Youth Daily.
From 2011, Situ Xiaochun is Art Consultant in the digitalmeetsculture online portal.