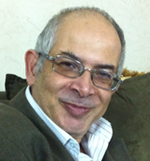 MARWAN ASMAR, Chief Editor in the ATHENA Project (JORDAN)
Dr Marwan Asmar is a media and PR consultant who have worked in the field of journalism since 1993. Currently living in Jordan, he worked in different media outlets in Amman, United Arab Emirates and Saudi Arabia writing and editing articles that spanned from politics, economics, society, culture and internet technology and telecommunications.
He worked in an English weekly in Amman, an English daily in Dubai and edited a whole host of periodicals and magazines in Riyadh that specialized from travel and tourism to diplomacy and corporate culture.
Dr Marwan Asmar has been involved in the drawing up of media campaigns that included promoting tourism in Aqaba, supporting intellectual property rights in Jordan for the National Library and making people more aware of the importance of ancient theaters as it is the case with his latest position as Chief Editor in the ATHENA Project for the Ancient Theaters Enhancement for New Actualities in the Department of Antiquities in Jordan.
Part of his duties is to produce content for the "ATHENA Project Newsletter" which is published on a regular basis of news, views and developments in the ATHENA Project countries, update the website with fresh content and is involved in writing reports, research papers and general editing.
He has worked as Head of Research in Writelabs, a local consultancy in Amman, did a stint as media advisor to the Jordan Inbound Tour Operators Association and worked with one of the leading tour operator companies in Jordan on PR issues and posting content on websites and blogs.
For further information: