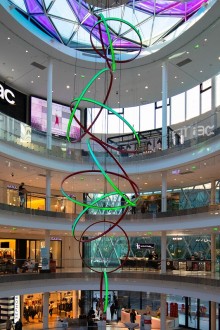 Miguel Chevalier's fourteen-meter-high light sculpture "Orbites" premiered in Beaugrenelle Paris shopping centre.
This sculpture-installation is composed of nine aluminum rings covered with LED lights.
The rings, from 1.5 to 3 meters in diameter, are arranged in a cascade. They are like ajuggler's rings stopped in mid flight. This work is a first for the artist. It was conceived specifically for Beaugrenelle and echoes the atrium's architecture, which is composed at each level of an ellipse (architect :Valode & Pistre).
Thanks to the LEDs covering the sculpture and to a specific computer program, infinite choreographies in colored light are generated in real time.
They bring these nine rings to life while continually transforming the volume of the sculpture.
Surprising visual experiences are created while playing with the circularity and height of this sculpture-installation. Waves of light embracing all the colors of the color wheel move in continuous flux as they circulate from one ring to another, cross each other, and wander off on multiple chance paths.
These flowing lines become them metaphorical image for the multiplicity of data generated each day that weave together our environment and circulate non stop at an ever more rapid pace.

Miguel Chevalier – Orbites 2019 – Beaugrenelle Paris from Miguel Chevalier on Vimeo.
Information:
Orbites 2019 –Miguel Chevalier
Beaugrenelle Paris
Exhibition from 12 September to 7 November 2019
Curator: Jérôme Neutres
Coordination: Büro Constance Breton
Software: Claude Micheli
Technical production: Voxels Productions and LedPXL
Photos credit: Nicolas Gaudelet