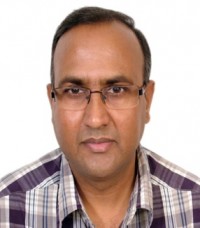 Dr. Ramesh C.Gaur is presently the University Librarian, Jawaharlal Nehru University (JNU), New Delhi (www.jnu.ac.in ). Prior to this he was Librarian & Head, Kala Nidhi Division at Indira Gandhi National Centre for the arts (IGNCA), New Delhi and was the Project Coordinator of an International Bibliographic Project known as ABIA, South and Southeast Asian Art and Archeology Index. Dr. Gaur has also headed Kala Kosha Division of IGNCA during October 2009 to December 2010, and National Mission for Manuscripts (NMM), IGNCA as its Director from April 2009 to September 2009. He is the Project Coordinator for a collaborative project with C-DAC, Pune and Department of Information Technology, Government of India on "Development of Digital Repository of Indian Cultural Heritage" under the project "Centre for Excellence on Digital Preservation".
A Fulbright Scholar, Dr. Gaur is a Science graduate with Ph.D in Library and Information Science, with exposure to several-advanced training programme on the applications of IT to Library Management.
After rich exposure in corporate environment, he joined IMT Ghaziabad where his first major achievement of automating the Library and transforming it into a state-of-the-art establishment, hailed by all concerned.  This feat he replicated at the famed Tata Institute of Fundamental Research, Mumbai and also at Management Development Institute (MDI), Gurgaon.  Digitization and Digital Archiving of Indian Cultural Heritage is the main focus of his work at Indira Gandhi National Centre for Arts.
Dr. Gaur has visited USA, Russia, Germany, Thailand, Indonesia, Cambodia, Bangladesh, Malaysia and the Netherlands in relation to various assignments related to Digital Library and allied areas.
Download complete Curriculum vitae (PDF, 830 Kb)
For further informations: