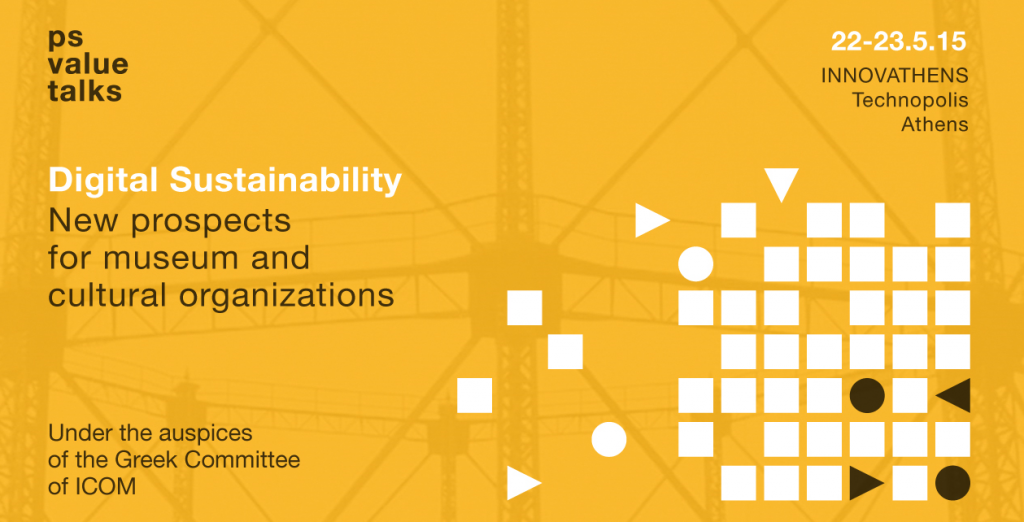 The two-day conference PS Value Talks Digital Sustainability – New prospects for museums and cultural organizations called on 22nd and 23 of May 2015 dleading representatives of European Union institutions to talk about six themes and present the newest trends in the management and promotion of cultural heritage goods with emphasis on the components of our digital world and the contribution of the institutional managers of cultural heritage to the sustainable development of the societies to which they belong. Prominent Greek representatives of national universities and cultural institutions had been invited as speakers and moderators towards a fruitful and constructive dialogue with the participation of the audience. The Minister of Culture Mr. Nikos Xydakis and Mayor of Athens Mr. Yorgos Kaminis delivered salutation.
The conference was organized by PostScriptum LTD in cooperation with Innovathens hub of the City of Athens and the Greek Free /Open Source Software Society (GFOSS), in the context of the celebration of International Museum Day 2015 "Museums for a Sustainable Society" and was under the auspices of the Greek Section of ICOM (International Council of Museums).
The first day 22 May a workshop on Digital infrastructure and value production in culture analysed how providing data to different repositories as well as participating in their research and strategic programs contribute to the sustainability of cultural reference organizations and what is meant by the virtuous cycle of the data value chain.
The workshop included speeches from Evi Sahini, "Transforming the integrated digital space of science and culture", and Harry Verwayen, "Museums@Europeana" .
Following, other interesting themes were tackled in two other sessions:
OpenGLAM – Cultural Organizations Open and Reusable Content including speeches of Prodromos Tsiavos: "One Way Road? Open GLAM Trends", Peter Gorgels: "Rijksstudio – make your own masterpiece" and Filippos Mazarakis-Ainian: "The endeavor of an old museum: The transition in the era of image in the National Historical Museum
and Management of cultural heritage and the creative industries with speeches of Vasilis Avdikos: "New trends and policies to support the creative economy", Ingrid Maria Meijer: "Etsy empowers makers to stimulate creative diversity in Art" and Despina Geroulanou: "Benaki Museum shops: Creative spaces of cultural heritage management"
The whole event was a great occasion for dissemination of Europeana Space, to showcase the value of content re-use, to present the project and to establish contact and dialogue with representatives of external targeted organisations and other initiatives and stakeholders.
The event attracted about 200 attendees and 1754 viewers in the live streaming, representing the Culture and Academic sectors next to Policy Makers, Media and agencies & Industry (ICT, Development, Designers, Google etc).
Website of the event: http://psvaluetalks.gr/en/
The playlist of the speeches is available here