by Vassilis Tzouvaras (NTUA)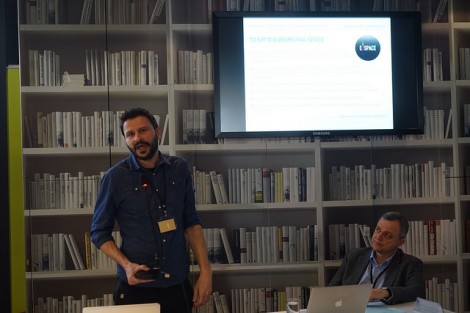 The workshop «Repurpose, Experience, Taste and Rethink Culture», was held on March 22, 2016 at INNOVATHENS, Technopolis, City of Athens. The workshop was organized by the National Technical University of Athens and with the support of PostScriptum. The main aim of the event was to generate new perspectives and facilitate the creative re-use of cultural heritage and associated metadata made available through online digital collections within a framework of creative experimentation and novel dialogue between multidisciplinary sectors,  explore the potential of crowdsourcing as a means of promoting increased public participation in core tasks such as collecting, describing, categorizing, or curating heritage collections.
The conference gathered speakers from the National Technical University of Athens, the National Documentation Centre, Onassis Cultural Center, the Athena Research Centre, the Europeana Fashion International Association, PostScriptum, the National History Museum, as well as young enterpreneurs from the creative industry,  who presented their ideas and and discussed the impact of digital content to sustainable economic and social development. The event attracted an enthusiastic audience with a creative, practical or strategic interest in culture ranging from  content providers to producers, exhibitors, artists, curators  and makers of cultural/creative content, architects, archeologists, librarians, museologists publishers, broadcasters, telecoms and distributors of digital content, IT experts.
Photo credits: Katerina Komninou
The event was divided in 4 sessions, each one representing a thematic category. Session "Repurpose  Culture: Creative Reuse", set the scene of the creative reuse of cultural content and the ways in which users can be engagged in the process, and intrduced the  collaborative WITH platform for creative reuse  through  the Europeana Space project activities. Session "Experience culture: A tour in European projects", explored the experience of digital culture through different paths and European projects such as EuscreenXL, Europeana Sounds, Europeana Food and Drink and Europeana Fashion. Session "Taste Culture: Food and Drink", drew into focus the example of food and drink in the digital culture, stressing the importance of reuse of European gastronomic heritage.  Session "Rethink culture: Museums and Arts" served to identify  and promote creative ways  of cultural  material reuse  in the area of  museums and arts.
Throughout those sessions, there was a mix of inspiring talks and lively discussions on cultural heritage discoverability and creative reuse, community engagement and the implicit business potential that lies in this. The demonstration of the newly founded collaborative and interoperable  WITH platform, showcased via different applications spaces, attacted the audience's interest and set the field for further discussion.
Learn more on E-Space Technical Space based on WITH platform.
More photos of the event available on Flickr.