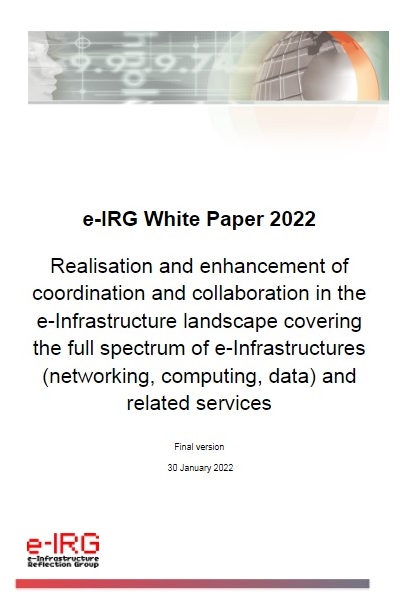 The e-IRG White Paper 2022 addresses the coordination and cooperation among European e-Infrastructures and takes further the series of e-IRG policy documents. Since the introduction of the e-Infrastructure Commons in the e-IRG Roadmap 2012, some progress has been made towards an integrated e-Infrastructure landscape, most notably with the implementation of the European Open Science Cloud (EOSC) and the federation of generic (horizontal) and thematic (vertical) services from e-Infrastructures and Research Infrastructures accordingly.
Still, progress is slow given the complex European research ecosystem spanning institutional, national regional and European components, at different maturity levels and speeds. The current cooperation and coordination among European e-Infrastructure initiatives and related organisations under the EOSC undertaking or other efforts, is ad-hoc and not properly framed. e-IRG sees a clear need to enhance the coordination and cooperation among major European e-Infrastructure initiatives, which are an indispensable part of EOSC.
The objective of this e-IRG White Paper 2022 is to provide recommendations to the different stakeholders to strengthen the communication between e-Infrastructure providers at European level and their cooperation towards an enhanced and coordinated strategy setting.
The e-IRG White Paper 2022 has been published and is available on Zenodo: https://zenodo.org/record/7584778#.Y9joOi9XYdU