Ethics and Repair: Continuing Dialogues within Somatic Informed Practice and Philosophy
Venue: Centre for Dance Research (C-DaRE), Coventry School of Art & Design, Coventry University
The third international Dance and Somatic Practices Conference invites somatic practitioners, dance artists and scholars from a range of subject domains to continue, extend and debate investigations in the field of somatic informed dance practices.
The 2015 conference will consider the ways in which somatic informed dance offers answers to a number of questions:  How might the corporeal or material (Grosz, Bradotti, Bennett) enable change through what has been termed 'small acts of repair' (Hinson) or what might be understood as 'cellular consciousness' (Bainbridge Cohen)? Then what are the ethical dimensions of this way of being in the world? How do we articulate these understandings and what does the field not yet know? And how might the legacy of somatic informed dance practices shape future understandings of ethics and repair in the 21st Century?
Keynote Speakers:
Emilyn Claid – Professor of Choreographic Practices Roehampton University
Susan Kozel – Profesor, School of Art and Culture, Malmo University
The conference seeks to offer a space for discussion, engagement, debate and experimentation and invites proposals in a range of modes and formats including but not limited to: papers, workshops, lecture demonstrations, posters, round tables, working parties, provocations, curated panels and performative interventions.
Learn more: http://jdsp.coventry.ac.uk/Conference.html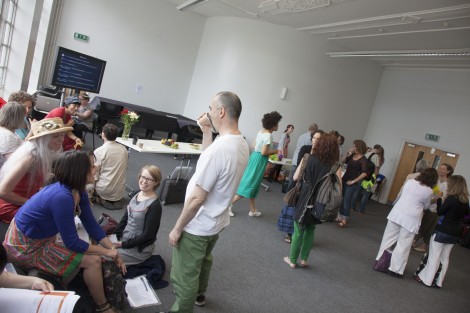 Photo: Copyright of Fresh@CU and C-DaRE