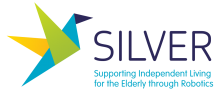 The SILVER consortium hosts its Final Conference and Workshop, which will be held ahead of the European eHealth Week, on the 7th of June 2016 in Amsterdam, the Netherlands.
The Conference aims to share the SILVER experience with Pre-Commercial Procurement as an innovative tool for bringing new care technologies to the market. Participants will have an opportunity to hear from both procurers and contractors involved in the project's Pre-Commercial Procurement exercise. Furthermore, the successful robotic solution – the Lean Elderly Assistant (LEA) – will be presented by its designers, Robot Care Systems.
For participants interested in the practicalities of procuring innovation in the fields of robotics and elderly care, the SILVER partners will host an interactive workshop session following the Final Conference. The afternoon session will focus on the lessons learnt while delivering SILVER and give recommendations for future Pre-Commercial Procurement projects.
Both events will be held at the Tobacco Theater (address: Nes 75–87, 1012 KD Amsterdam) and are free of charge. Registrations by the 3rd of June 2016.
For more information about the conference, please visit www.silverpcp.eu/events/silver-end-of-project-conference/.
For more information on the SILVER project, please visit www.silverpcp.eu.