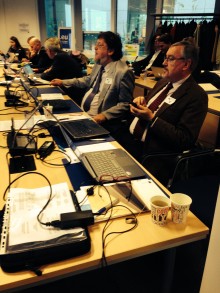 On February 10th, 2014 the Innovation Unit of the European Commission organised the 1st concertation meeting for ongoing Pre-Commercial Procurement projects. This represents a good opportunity to collect information about good practices and to bring up problems or questions.
PREFORMA has been invited to the meeting and three representatives participated and presented the project:
the Coordinator Borje Justrell from the Swedish National Archives (Riksarkivet);
the Technical Coordinator and Communication Manager Antonella Fresa from Promoter Srl;
Peter Pharow from Fraunhofer-Institut for Digital Media Technologie IDMT, who will lead the first phase of the procurement – the design phase.
Download here the project presentation delivered by Borje Justrell.
Download the minutes and the list of attendees.
On the following link you can find uploaded all presentations: Click here to view PCP_PPI.