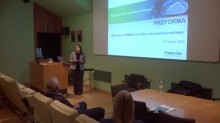 On March 6th 2015, the six suppliers who are currently working in the first design phase of the PREFORMA PCP project presented to the PREFORMA Consortium and to the external experts of the Evaluation Committee the results of their work.
The workshop represented a good opportunity to discuss the outcome of the design phase and at the same time it is the first step in the evaluation of this phase, which will be carried out during March.
The presentations of the workshop, as well as all other results of the design phase, will be made available at the beginning of April, as soon as the evaluation will be completed and the prototyping phase will start.
Stay tuned on the PREFORMA website and on the Open Source Portal!