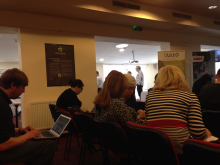 Antonella Fresa, Technical Coordinator of PREFORMA, presented the project at the 19th edition of the ILIDE Conference.
The presentation focused in particular on the open source approach and on the forthcoming testing phase, showing how the conformance checkers can be used and integrated in other systems.
ILIDE,  Innovative Library in Digital Era, is the continuation of well-known and prestigious Digital Library Conference and brings together digital preservation, digital collections access and digital processing experts from around the world. The presentations were delivered by leading representatives of the most important institutions dedicated to librarianship, archiving, information technology, cultural and collecting activities.
For further information please visit the Conference website.