A Memorandum of Understanding has been signed between PREFORMA and Europeana Creative to enable and promote greater re-use of cultural heritage resources by creative industries, starting from the open source tools developed in the framework of PREFORMA PCP and of Europeana Creative.

PREFORMA (www.preforma-project.eu) is a Pre-Commercial Procurement project co-funded by the European Commission within the framework of the FP7 ICT Programme with the aim to address the challenge of implementing good quality standardised file formats for preserving data content in the long term and to give memory institutions full control of the process of the conformity tests of files to be ingested into archives.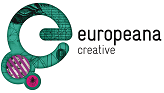 Europeana Creative (pro.europeana.eu/web/europeana-creative) is a European project that enables and promotes greater re-use of cultural heritage resources by the creative industries. Europeana Creative sets the stage for fascinating collaborations between content-providing cultural heritage institutions and creative industries stakeholders in the education, tourism, social networks and design sectors. Its development takes place through inspiring pilot applications and open innovation challenge events..