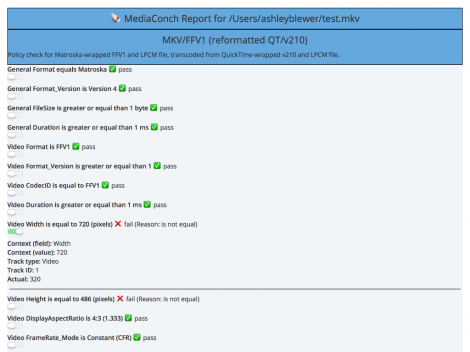 New Release Notes
What's new in MediaConch 16.05
Local GUI, Online, CLI, Server
MediaConch XML format v0.2
Improved Matroska tests
Improved HTML display
FFV1 parsing speed improvement
Local GUI
Option for applying a policy to all open files
Lists of values for several elements in the policy editor
Minor UI improvements/fixes
Online GUI
Option for applying a policy to all open files
User settings: default policy, default display, default verbosity
Minor UI improvements/fixes
Latest Downloads
Download MediaConch's latest release from PREFORMA Open Source Portal or a daily build from MediaConch website.
MediaConch now supports plugins including VeraPDF and DPFManager!
Upcoming Events
Join us for our pre-IETF Berlin Symposium: No Time to Wait! A free workshop for audiovisual archivists, developers, and open standards working groups from July 18th – 20th hosted by the Deutsche Kinemathek, Zuse Institute Berlin, and MediaArea.net.
The MediaConch project and this symposium has received funding from PREFORMA, co-funded by the European Commission under it's FP7-ICT Programme.
Feedback
MediaArea is eager to build a community of collaborators and testers to integrate the software in their workflows and participate in usability testing. Please contact us if you'd like to be involved!