Updates
We are pleased to announce the progress we've made this year. There are new updates to MediaConch that expand its capabilities, user stories to share, and new events related to implementation checking and the standardization of open audiovisual formats.
The MediaConch team recently collaborated with VIAA on tests to migrate their JPEG2000/MXF collection to FFV1/Matroska. Learn more about our process and findings!
The development of MediaConch has been closely following the work of the IETF CELLAR working group which is creating specifications for EBML, Matroska, FFV1 and FLAC. Review the latest versions of those documents.
Some Highlights:
MediaConch optimized its FFV1 parser, which will allow upcoming versions to provide more comprehensive implementation checking of FFV1 against its specification.
We improved the Matroska checker, particularly to support the CELLAR working group's development of the EBML Schema, which defines Matroska's structure in a manner similar to an XML Schema.
Attachments to Matroska files may now be analyzed against other implementation checkers. For instance, Matroska can now use VeraPDF or DPF Manager to assess TIFF or PDF data.
In collaboration with the Tate Museum, we have added a TN2162 policy checker to MediaConch. This policy assesses uncompressed video in QuickTime against Apple's list of additional requirements that affect that combination of formats.
Several bugs were reported and fixed. Thanks to our users for their reports!
Jérôme, Reto, and Kieran recently presented MediaConch and CELLAR standardization at the Reel Thing Conference in Amsterdam.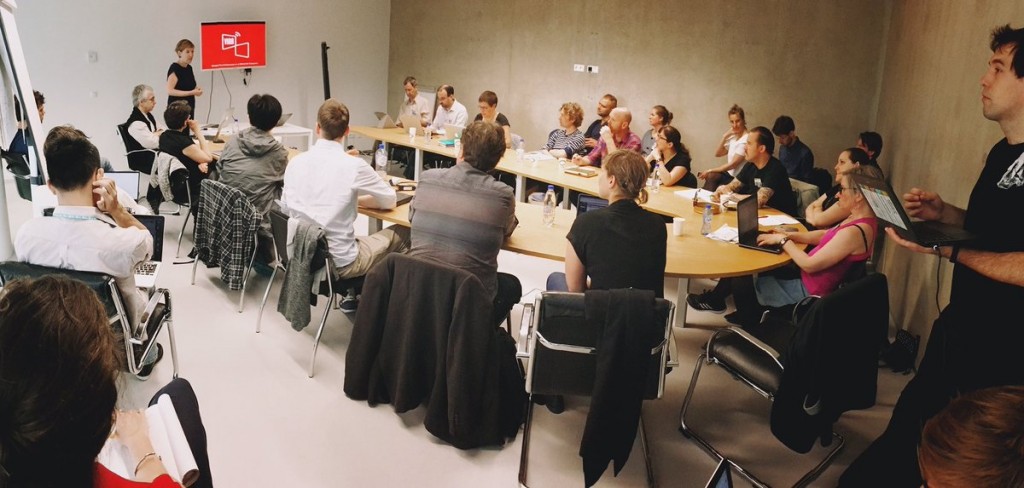 The presentations and conversations at the Reel Thing demonstrated a growing interest in the standardization process of Matroska and FFV1 as well as methods to integrate these formats into preservation environments. Conversations focused on use of these formats for film preservation challenges and collaborative work to develop more tools around lossless video.
Next steps:
"FrameMD5" computing in MediaConch, in order to compare resulting file to a source file, pixel per pixel, after a conversion to Matroska/FFV1, if the conversion includes a "FrameMD5" of the source file.
Adding more information (specific location of the error in the bitstream) when FFV1 validation fails.
Stabilization of the software, with bug fixes and more automatic non-regression tests.
Ashley recently interviewed Eddy Colloton from the Denver Art Museum about his process and experience using MediaConch. Read it here!
Upcoming Events
June 21st, 2017 4:45 – 5:30 pm PDT: Ashley will discuss MediaConch and format standards in her talk How Open Source Audiovisual Tools Help Archivists (And You Too!) at Open Source Bridge this week in Portland, OR.
July 10th, 2017 2:00 – 5:00 pm EDT: Dave will be hosting An Archivists' Guide to Matroska workshop at the Metropolitan New York Library Council.
July 19th, 2017 15:20 – 16:50 CEST : CELLAR (Codec Encoding for LossLess Archiving and Realtime transmission) will hold its second face-to-face meeting during IETF 99 at the Hilton in Prague. The final agenda will be published on June 23rd, 2017. Tessa and Jérôme will be attending in person.
September 20th, 2017 from 9:45a – 11:15a CEST: Jérôme and Dave will host a workshop: Checking Audiovisual Conformance, for IASA at the Ethnological Museum of Berlin.
October 11th – 12th, 2017: The PREFORMA International Conference will be held at the National Library of Estonia, Tõnismägi 2, Tallinn.
Latest Downloads
Download MediaConch's latest release or a daily build.
New Release Notes
What's new in MediaConch 17.05
GUI/CLI/Server/Online
Less verbose output by default
CSV output (useful for automation with the command line)
Option for creating policy from a file directly in the policy editor
New policy example based on Apple's TN2162 which defines requirements when storing uncompressed video in QuickTime
Analyze attachments in Matroska files (useful especially with PDF or TIFF plugin, for validating attachments)
Better support of some broken Matroska files, displaying more information about the reason it is a broken file
More Matroska and FFV1 validity tests
Performance improvements
For Mac users, MediaConch is now available directly in the Mac App Store, with automatic updates
The MediaConch project has received funding from PREFORMA, co-funded by the European Commission under it's FP7-ICT Programme.
Feedback
MediaArea is eager to build a community of collaborators and testers to integrate the software in their workflows and participate in usability testing. Please contact us if you'd like to be involved!