Rokiškis regional museum is an institutional member of the Lithuanian Museums Association. The beginnings of Rokiškis Regional Museum date back to 1933, when enthusiasts assembled in the Society for Regional Studies and established the Museum of Regional Studies. The first museum spaces were two rooms in the county library. In 1939 the museum's collection consisted of 1046 objects of museological value.
This regional museum has an impressive amount of visitors per year and may become an interesting case for the use of the Blinkster prototype developed in the E-Space Museums pilot, and for cooperation with European partners. The Rokiškis museum is interested to test Blinkster app and share results with other partners within the project funded by national program of the Lithuanian Council for Culture.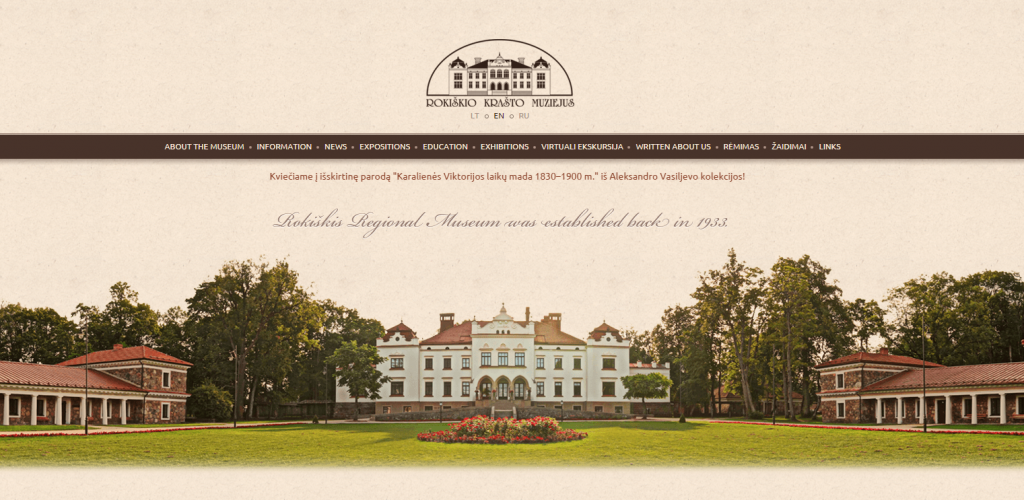 Currently, the museum houses over 100 thousand exhibits. The unique history and culture of the Rokiškis Region is preserved here: countless archaeological finds, old books, documents and prints, coins and banknotes from various ages, visual and applied art pieces representing manor house culture, a valuable collection of the Counts' clothing, manor house archival material, photographs, old and new folk art collections with the exceptional works of the 20th century's most famous Lithuanian wood carver, Lionginas Šepka, and the only collection of nativity sculptures in the country. The museum conducts research, publishing, educational and expositional activity, as well as organising events and festivities. Every year the museum attracts over 50,000 visitors from more than 30 countries.
The project "Rokiškis manor" was the winner of the Lithuanian Destination of Exellence that corresponds the theme "Tourism and Regeneration of physical sites, 2011" In 2012, the Rokiškis Regional Museum was chosen as the Museum of the Year. It was selected by experts as one of Lithuania's 20 best museums, receiving the most votes by online news site delfi.lt readers. Since 2012 ongoing digitization activities, the museum provided content in the Project Europeana Photography.