Leading brands in the global market are those which constantly innovate their products and services, their communication and marketing strategies. This is true for cultural brands as well. To ensure their success, they need to anticipate the future changes and the evolution of cultural, social, technological and symbolic aspect.
The workshop will apply SPROUT –  a design-driven innovation methodology conducted by PCA Design Management professor, Maurizio River Serena, together with trends specialist Laureano Mon – to the cultural field, combining theoretical and practical instruction to develop the team's vision and ability to imagine possible future scenarios for museums.
The Guest Professors Julian Stadon – Subject Leader in Innovative Media Practice at University of the Arts London – and Victoria Szabo – Associate Research Professor of Art, Art History & Visual Studies at Duke University (NC) – will provide students with inspiration from the world of augmented reality, game design, transmedia storytelling and other innovative media practice that are changing how museums conceive their spaces, services, products and relationships with audience.
The SPROUT Methodology will be integrated to a design ideation process, that will enable students to produce developed ideas and concepts for a product-service-system for the museum of the future.
Practical case study: Museo Dolom.it, the virtual museum of Dolomites landscape
When: 5-9 June 2017
Where: Rifugio Lagazuoi (at 2752 m) Cortina d'Ampezzo (Italy) in Dolomites UNESCO Heritage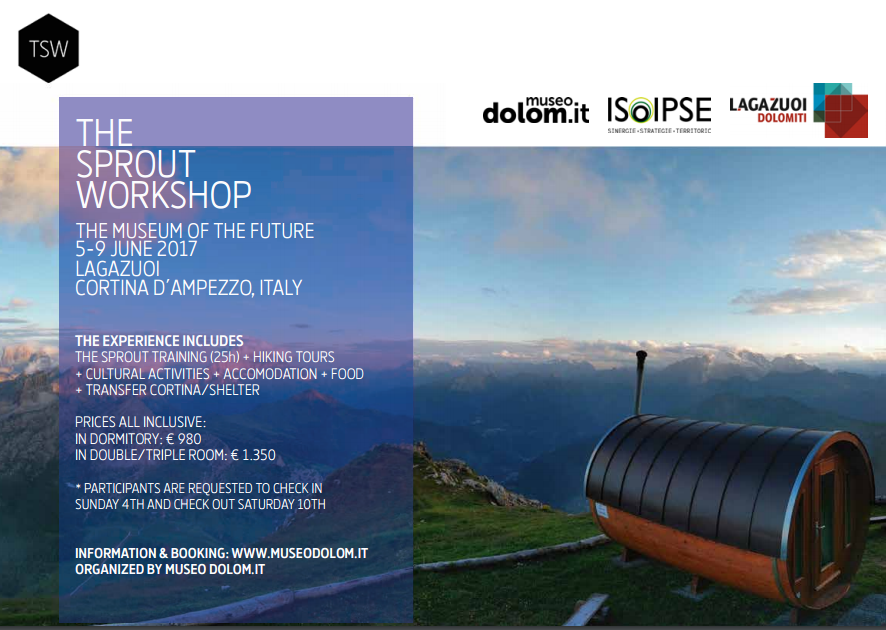 Who can apply?
University students, postgraduate researchers, museum professionals, curators, designers, architects, project managers.
How can participate?
Read the program and fill the registration form.
Deadline to apply: 15th April 2017
For more informations contact us at info@museodolom.it