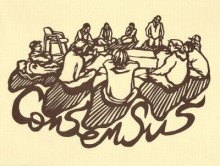 The results of the call for tender launched by PREFORMA in June 2014 are now available.
All tenders eligible and not subject to the exclusion criteria have been evaluated by a number of experts and a decision panel.
By a decision on the 28th of October 2014, Riksarkivet, on behalf of the PREFORMA Consortium, has decided to award contract to the following tenderers:
VeraPDFa Consortium (to work on PDF/A)
Preservica (to work on PDF/A)
Easy Innova (to work on TIFF/EP)
MediaArea (to work on MKV/FFV1/LPCM)
KU Leuven – Libis Library IT Services (to work on TIFF/EP)
Université Catholique de Louvain (to work on MKV/JPEG2000/LPCM)
The 6 tenderers will start working starting from November 2014 on the design and development of an open-source toolset for conformance checking of digital files intended for long-term preservation in memory institutions.
The PREFORMA project would like to express its thanks to all the organisations who participated in the Call for Tenders and would like to remind to all interested parties to join our community and to follow the progress of the project.